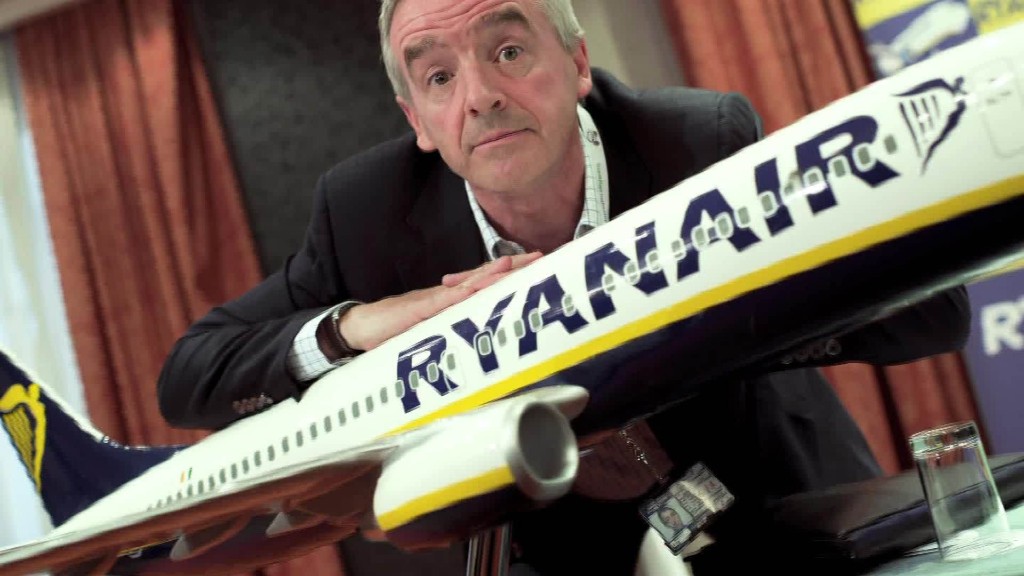 Ryanair CEO Michael O'Leary says there's just six months to go before panic sets in over Brexit.
The outspoken airline boss said the British public will wake up to the consequences of leaving the European Union when they are warned that summer holiday flights for 2019 are in danger.
Flights between the UK and EU could be grounded starting in March 2019 if negotiators aren't able to strike a divorce deal that includes aviation. With Brexit a year away, talks have still not yet formally begun on the issue.
"Six months before Brexit is when the airlines will really be panicking, and customers will really be panicking [and asking] 'Are these flights going to operate?' " O'Leary said during an interview with CNN.
O'Leary, who campaigned for Britain to remain in the EU, said his Irish airline plans to warn customers that flights from the UK to EU are in danger by including a "Brexit clause" with tickets.
The clause would state that flights would operate only if there is a new aviation agreement between the two sides.
He said that other airlines would be forced to issue similar warnings.
Related: Ryanair grows in Middle East with new Jordan flights
The European Commission sent a bleak notice to the aviation industry in January that outlined how UK-EU ties would be severed if no deal is struck.
"As of the withdrawal date, the operating licenses granted to airlines by the United Kingdom Civil Aviation Authority will no longer be valid EU operating licenses," it stated.
Related: London risks losing its role as banker to the world
No deal would mean that flights between the UK and EU would stop. UK airlines would also lose the ability to fly between cities in the EU.
Carriers are already taking precautions. EasyJet (ESYJY), which is headquartered in the UK, has established a subsidiary inside the EU to ensure that it can continue to fly between cities in the bloc.
In a worst case scenario, the first month of disruption could affect over 85,000 flights between the EU and UK, according to data from aviation analytics firm FlightGlobal.
Related: Brexit could hurt UK car industry's electric dreams
Some analysts and airline executives are optimistic that a deal will be struck in time to avoid disruptions.
But more work has to be done.
Brexit would also exclude the UK from air transportation agreements the EU has signed with other countries, such as the US. The UK must draft new deals with those countries to keep planes in the air.
"Unless somebody blinks or somebody changes their position, there is going to be a disruption to flights," said O'Leary.