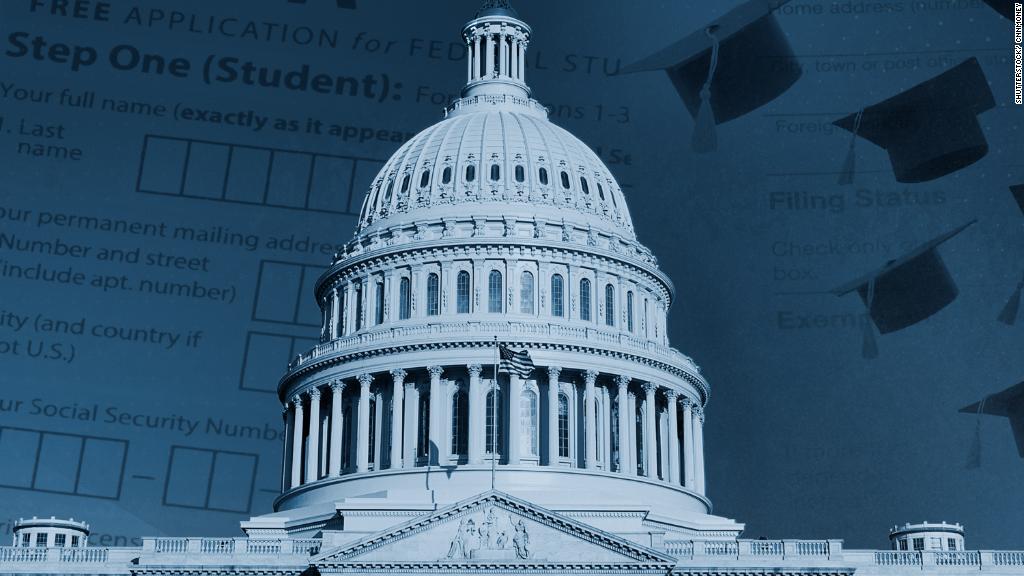 Some student loan borrowers will get another chance to qualify for the Public Service Loan Forgiveness program.
Congress has set aside $350 million to help fix what lawmakers have called a "glitch" in the enrollment process.
Teachers, social workers, public defenders and others who work for the government or non-profits can qualify for student loan forgiveness after making 10 years of payments. But many who thought they were on track for forgiveness have since found out they were in a repayment plan that makes them ineligible for debt relief.
The money was included in Congress's spending bill signed by President Donald Trump Friday. It funds the government through September.
Many student loan borrowers have claimed their loan servicers led them to believe they qualified for the program, when they actually did not.
Mike White, who works in higher education, said he was thrilled when the forgiveness program was announced in 2007. But he was recently told that none of his payments would count because he was in the wrong repayment plan. He had to switch into a new plan and start all over.
But if the new funding makes his earlier payments eligible, he could see his debt erased in three years, instead of nine.
"I'm cautiously optimistic. I'm curious to see what will really happen," he told CNN in an email Friday.
Related: Lawsuits filed over Public Service Loan Forgiveness program
Lawmakers have blamed the problem on complex program requirements. Separate bills were introduced in the House and Senate last year to find a solution.
"Rather than let good actors slip through the cracks, we're fighting to provide relief to all those who fulfill the spirit of the program despite paperwork errors or bureaucratic complications," said Congressman Brendan Boyle in a statement when he introduced the original legislation in November.
Borrowers are encouraged to submit a certification form annually to make sure their employer and loan repayment plan qualify. But that form wasn't made available until 2012, five years after the program launched.
About 740,000 people had submitted the form as of last September, but 45% haven't made any qualifying payments, according to a Federal Student Aid document.
Related: Is anyone actually getting public service loan forgiveness?
Consumer advocates were pleasantly surprised to see the funding for the Public Service Loan Forgiveness program in the spending bill.
"I think Congress is recognizing that communication was poor when it was first rolled out," said Betsy Mayotte, the president and founder of the Institute of Student Loan Advisors.
It's hard to say how far the $350 million will go, she said.
This is the first year borrowers would have had enough time to make 10 years of payments and receive forgiveness from the program. In January, the Department of Education said it expected fewer than 1,000 people to see their debt erased this year.
Early data suggested that many borrowers who qualify have racked up large amounts of debt after going to law or medical school.
Related: She thought her loans were forgiven. They weren't
To qualify, a borrower must be enrolled in one of four income-driven repayment plans offered by the government. But there are other repayment plans that also lower monthly payments. As of May 23, borrowers in those plans may now qualify for forgiveness.
But you must have already made 10 years of payments and applied to the Public Service Loan Forgiveness program previously to qualify for expanded eligibility.
The funds will be available on a first-come, first-served basis. If you think you may have become eligible for forgiveness, you must email FedLoan Servicing, the company handling applications to the forgiveness program.
More information can be found on the federal student aid website here.
Related: Want student loan forgiveness? Here's how to qualify
The expanded eligibility will not help borrowers who may have had the wrong kind of loan while in a qualifying repayment program. Only loans from the federal Direct Loan Program are eligible. Some older borrowers may have Family Federal Education Loans, which still won't qualify.
The additional funding came as the Trump Administration has proposed killing the program for future borrowers. It's not the only provision in the Department of Education's proposed budget that Congress ignored. The bill also increases the maximum Pell Grant amount for low-income students and expands the federal work-study program. But it does not include the $1 billion Secretary Betsy DeVos requested for school choice programs.
Editor's note: This story was updated on May 23, 2018 when the Department of Education released more information about how to apply under the new eligibility requirements.