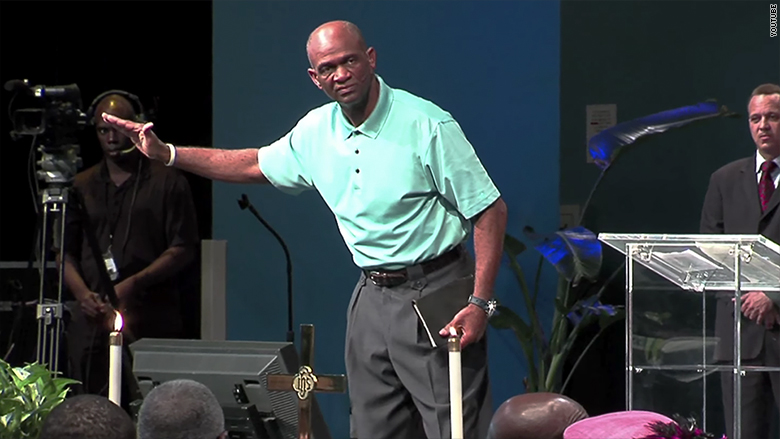 Federal authorities have charged the pastor of a Texas megachurch and a Louisiana financial planner with defrauding elderly investors out of more than $1 million.
Kirbyjon Caldwell of Houston and Gregory Alan Smith of Shreveport were charged Friday with six counts of wire fraud and five counts of money laundering, as well as one count of conspiracy to commit wire fraud and one count of conspiracy to commit money laundering, the Justice Department said.
The Securities and Exchange Commission has also filed civil charges against Caldwell and Smith for the alleged fraud, which occurred from 2013 to 2014.
Caldwell, 64, is the senior pastor of Windsor Village United Methodist Church in Houston, which is described by the SEC as "one of the largest Protestant churches in the U.S." Smith, 55, is the manager of Smith Financial Group in Shreveport.
They're accused of bilking 29 mostly elderly investors by selling them Chinese bonds issued before the revolution of 1949, saying that their historical value made them "worth tens, if not hundreds, of millions of dollars" according to a court document from the SEC. "In reality, the bonds were mere collectible memorabilia with no investment value."
The SEC says the bonds have been in default since 1939, and the "current Chinese government refuses to recognize the debt."
Related: Theranos founder Elizabeth Holmes charged with fraud
Some of the victims liquidated their annuities to invest in this scheme, the SEC said
The ill-gotten funds were used to pay for personal expenses, including mortgage payments in the case of Caldwell and luxury automobiles in the case of Smith, it added.
The DOJ says they allegedly defrauded the investors out of more than $1 million. The SEC places that figure higher, at $3.4 million.
Neither the Windsor Village United Methodist Church or the Smith Financial Group responded to messages from CNNMoney.
Lawyers could not be located for Caldwell and Smith.
The SEC said that in 2010 Smith was permanently barred from associating with broker-dealers for "misappropriating investor funds."
The maximum sentence, if they're convicted, is 20 years with a $1 million fine, as well as restitution and forfeiture, the DOJ said.