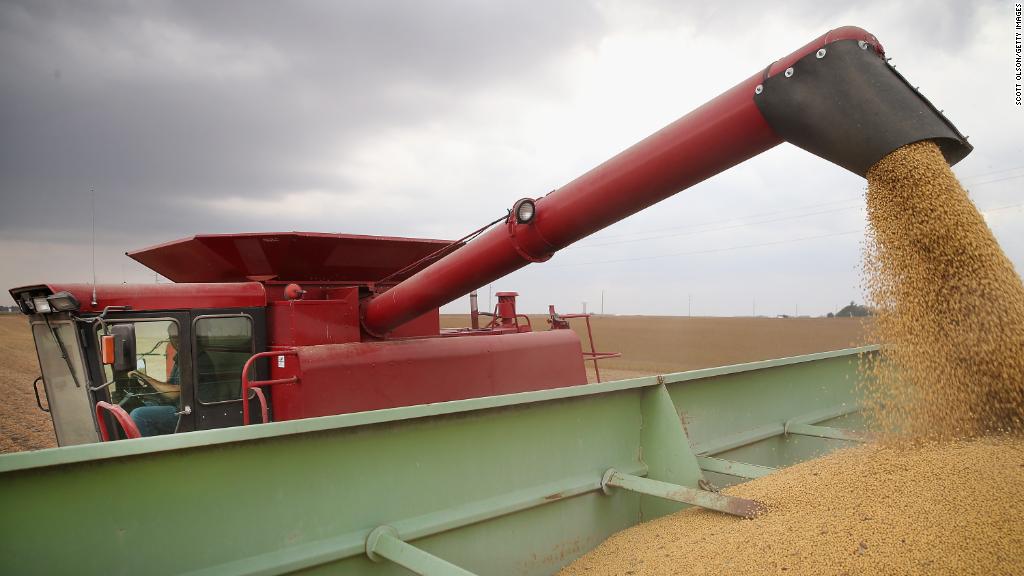 The shipping industry has a lot to lose in a potential trade war between the US and China.
Millions of jobs and the bottom lines of major maritime shipping companies, which account for 80% of all global trade, depend on goods traversing the oceans.
Even in times of robust trade, shipping industry profit margins tend to be slim — about 3%, according to Simon Heaney, senior manager of container research in London for Drewry, a maritime research consultancy.
Now that China and the US have threatened to swap 25% tariffs on a range of goods worth a total of about $100 billion, the maritime industry is worried that shipping volume will fall along with profits
"I think the ocean carriers are very nervous; they're coming out of some lean years," said Heaney. "This is clearly a concern for anyone involved in the shipping industry."
Tariffs could put up to 7% of Asia-to-US shipping at risk and impact 1% of total global shipping, according to Heaney. Shipping revenue in 2017 totaled $210 billion.
Related: US businesses to Trump: Don't go ahead with tariffs
"It's going to hurt container lines," said Mark Szakonyi, executive editor for the Journal of Commerce. He warned that container ships sailing from the US to China could get stuck with partially empty hulls and move "air back to Shanghai."
Last year, for example, the US shipped nearly 57,000 containers worth of soybeans to China, but with a 25% tariff looming it's unclear if as many soybeans will travel a well-worn route down the Mississippi and out the port of Louisiana headed for China.
Restrictions on other products would hit America's busiest port cities, like New York, Los Angeles, and Long Beach, California. While few Americans work on the ships themselves, nearly 10 million Americans work in the industry, according to the Bureau of Labor Statistics. Occupations include aircraft cargo handlers, truck drivers, ship engineers, hoist and winch operators and more.
Related: China punches back with 25% tariffs on planes, cars and soybeans
"A trade war with China is a bad thing for pretty much all transports," said Scott Group, shipping analyst with Wolfe Research, in a note at the end of March, when the tariff rhetoric was heating up. He identified the companies with the most to lose in a trade war with China.
Expeditors International of Washington, Inc. (EXPD), a logistics company that purchases cargo space from ocean shipping and airlines and resells it to customers, will take the lion's share of damage. Group said that 31% of that company's revenue came from China last year.
The next most exposed company, according to Group, is Atlas Air Worldwide Holdings (AAWW), a cargo airline from New York, which does a lot of business with Asian countries.
He said that FedEx (FDX) and UPS (UPS) could also be affected as 6% of FedEx's revenue and 5% of UPS' revenue are from US-Asia trade.
UPS spokesman Matt O'Connor told CNNMoney that "UPS does not expect to be measurably impacted based on the currently proposed tariffs."
FedEx declined to comment.
Rail companies could also be impacted, even though they might not do direct business with China. Group said that Union Pacific Corp. (UNP) has 13% of its revenue driven by trade with China because its trains carry the goods inland from the ports.
Other big players in the shipping industry are Covenant Transportation (CVTI), Daeske (DSKE) and Werner Enterprises (WERN).
Related: Trump plans to hit China with tariffs
Chris Rogers, an international trade analyst with Panjiva, a research firm that monitors global trade, said much of the effect on shipping will depend on the willingness or ability of American consumers to pay higher prices for basic goods, or the flexibility of Chinese manufacturers to shift their production to other countries, in a policy called "country hopping."