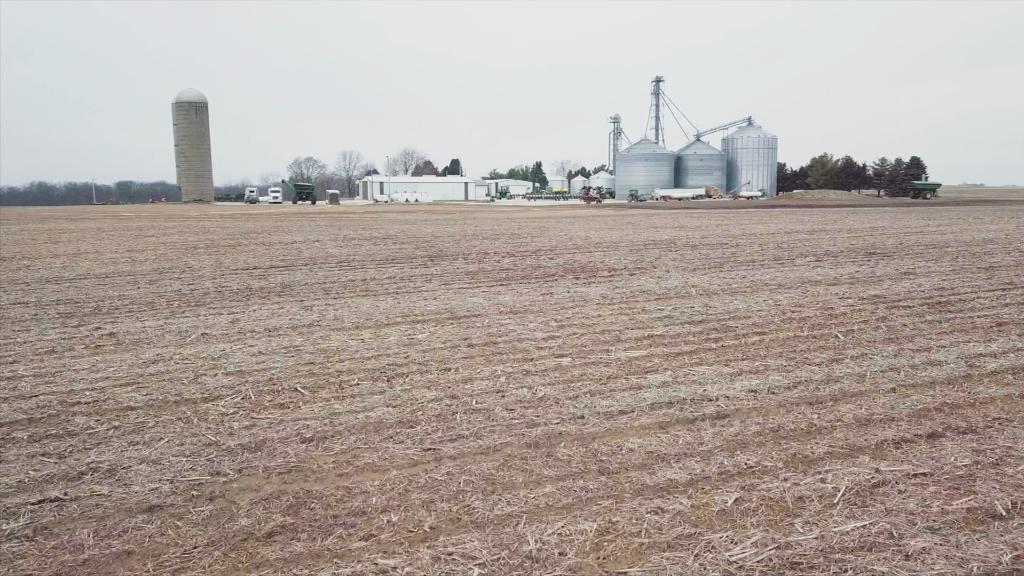 Iowa soy and pork farmers have a lot to lose in a high-stakes trade war with China.
Farmers, including one who voted for President Trump and another who hosted Chinese President Xi on his farm years before he became president, are already feeling the pain from a trade war that isn't fully underway.
Soybean farmer Grant Kimberly of Maxwell, a town of less than 1,000 people 20 miles from Des Moines, exports one third of his soy crop to China.
"We need food," Kimberly told Martin Savidge of CNN. "Everybody needs food. So let's not get this caught up in a trade dispute."
China announced $50 billion worth of tariffs on US goods earlier this week. The move by Beijing came in response to President Trump's plan to impose $50 billion worth of tariffs on Chinese goods for what he says are China's unfair trade practices and its theft of intellectual property.
Trump ratcheted up the rhetoric on Thursday, by saying that he was considering an additional $100 billion worth of tariffs on Chinese goods. China fired back saying it didn't want a trade war but "will not hesitate to fight back at any cost."
Trump threatens China with new $100 billion tariff plan
Iowa farmers say they are already feeling the impact.
"It's a matter of concern when your largest soybean export customer is having negotiations with your government," said soybean farmer Ron Heck of Perry. "It's been a really tough week. The price of soy really took a hit earlier in the week."
The price of soybeans slipped 3% at the beginning of the week, though it recovered part of those losses. The price of pork, which has been falling all year, slipped another 1% this week.
The Chinese tariffs target a list of US products that includes soy and pork. China bought $12.3 billion worth of soybeans last year, according to the Department of Agriculture. But now China said it is planning to impose a 25% tariff, matching the first set of tariffs planned by Trump. There are 300,000 jobs in the soybean industry in states like Iowa, Illinois, Minnesota, Indiana and Nebraska.
Related: China takes aim at America's soybean farmers
Kimberly, who hosted Xi on his farm in 2012 when he was a vice president, said the Chinese leader knows exactly what he's doing.
"The fact he's been here, he's got some inside information, he understands both agriculture and politics and they go hand in hand," said Kimberly. "He's very politically astute as are all the Chinese. I'm sure they understand the importance of agriculture to Iowa and to the Midwest."
Kimberly said, "It is no surprise that they chose some agriculture products as a counter measure to some of the tariffs that are being proposed on both sides."
China is the third biggest buyer of US pork, importing half a million tons of hog meat worth about $1.1 billion last year, according to the United States Meat Export Federation, an industry group.
Related: Chinese tariffs would take a bit out of US pork producers
"I think the president's making a mistake in this," said hog farmer Dave Struthers of Maxwell, who said he voted for Trump. He said that he exports a quarter of his pork, including about 3% to China and Hong Kong.
Struthers said that he hopes that Trump and the Chinese government don't go through with their plans to impose tariffs. But even the threat of them is hurting agriculture.
"You're losing in the meantime," he said. "That's the problem. You know there's innocent victims here."
--CNN's Nathaniel Meyersohn and Daniel Shane contributed to this report.