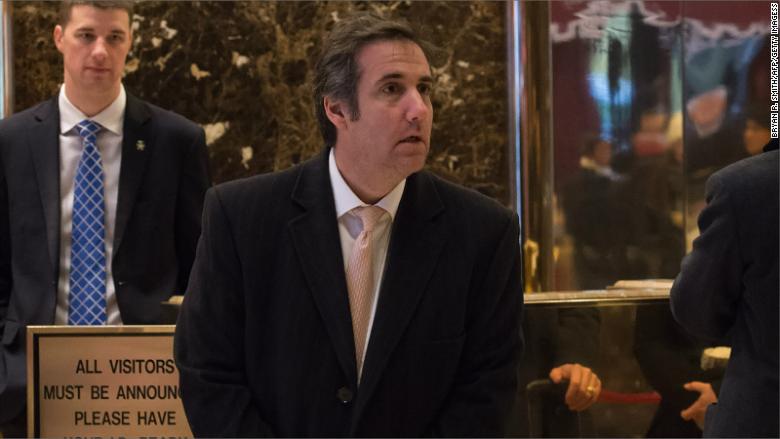 The Treasury Department's inspector general is reviewing whether banking information tied to a company run by President Trump's personal lawyer, Michael Cohen, was leaked.
Richard Delmar, counsel for the inspector general, said Wednesday that an inquiry was opened because of allegations that financial records of a shell company used by Cohen, Essential Consultants, were "improperly disseminated."
Delmar said the inquiry was opened because of a story in The New York Times, which reported that the shell company used by Cohen to pay the adult film star known as Stormy Daniels received money from a company linked to a Russian oligarch and from corporations with business before the Trump administration.
Among the transactions reported by The Times was a $500,000 payment last year to Cohen from Columbus Nova, which according to public documents is described as a US-based affiliate of Renova Group, a company founded by Russian billionaire Viktor Vekselberg.
Michael Avenatti, the lawyer for Daniels, first referenced the transactions on Twitter on Tuesday night.
CNN reviewed documents that appear to show those payments. But CNN has not independently authenticated the documents.
Cohen established the firm, Essential Consultants, in the weeks leading up to Election Day and used it to make a $130,000 payment to Daniels, as a part of an agreement to prevent her from discussing her alleged affair with Trump.
The White House has repeatedly denied that Trump and Daniels had an affair. Prosecutors have not accused Cohen of wrongdoing in regard to the payments or any other business dealings.
Avenatti did not immediately respond to a request for comment. Cohen previously declined to comment.
Special counsel Robert Mueller's investigators have questioned Vekselberg about the payments that his US affiliate made to Cohen, a source familiar with the matter has told CNN.
The scrutiny of the payments could add to the legal troubles for Cohen, whose home and office were raided last month as part of a criminal investigation by federal prosecutors in Manhattan. In court documents, the prosecutors said at least part of their inquiry stemmed from a referral from Mueller's office.