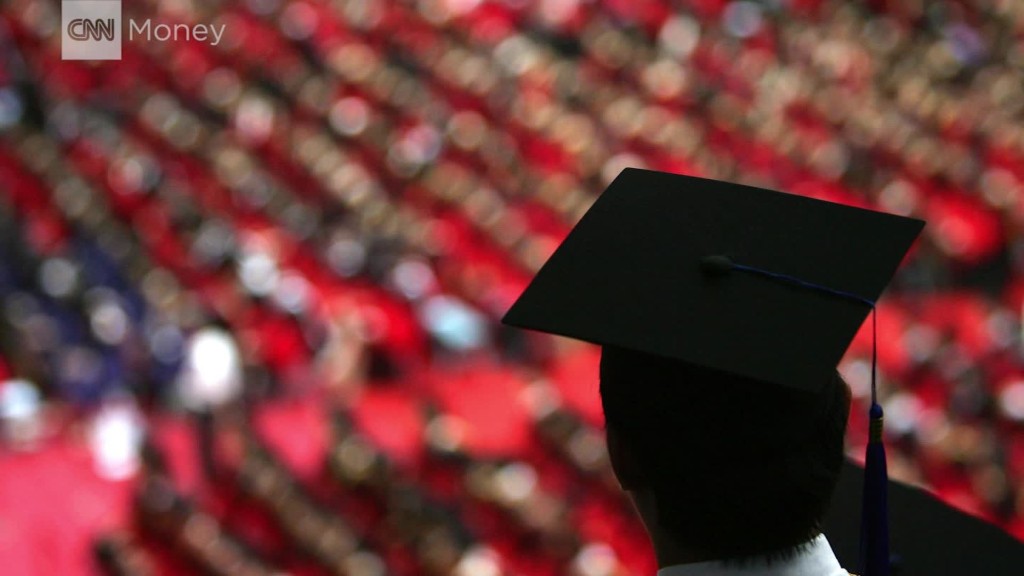 Students entering college this year could pay more than $190,000 for a bachelor's degree. Meanwhile, others will pay next to nothing.
Most people will fall somewhere in between.
But how much is too much?
CNN asked six experts to weigh in, including the head of a public university, financial aid officers, and student loan lenders.
Related: 7 ways to pay for college
The answer depends on personal circumstances like your family's finances and values. It also depends on where you live and what you'll study.
"It seems like something that should have a set cost, but it's a complicated question," said Carol Folt, the Chancellor of the University of North Carolina at Chapel Hill.
Here are a few tips to help you figure out your number:
Don't borrow more than $50,000
The experts agreed that rather than worrying about the total price tag, you should focus on how much debt you'll take on, and your ability to pay it back.
"Debt is what can burden you going forward and can limit your life choices," Folt said.
An oft-cited rule of thumb is to borrow no more than what you'll earn the first year after graduation.
But in order to figure that out, you'll need to know how much you'll be earning. That can be tough to pin down.
One recent survey found that the average starting salary for an entry-level position for someone with a bachelor's degree this year is $50,000.
Related: Why your financial aid award is smaller than you expected
Tech or science fields may earn bigger paychecks. But those who pursue a more volatile career or go on to graduate school may want to borrow less money, said Kal Chany, the author of Paying for College Without Going Broke.
To get a better sense of what different majors may pay, check out this data from the Georgetown Center on Education and the Workforce on lifetime earnings. The Bureau of Labor Statistics has data on lifetime earnings by career.
A third source, the government's College Scorecard, shows the median earnings of graduates by school, 10 years after entering college. (It only considers students who received federal financial aid.)
Experts told CNN that earnings stats can be "opaque," "quite misleading," and should be taken "with a grain of salt."
But it can at least give you a good starting point on figuring out what kind of earning potential you can expect with your degree, and get you started on running some numbers.
"It doesn't have to be an exact thing. It still helps to think about these ideas," Chany said.
Borrowing $31,000 is 'safe'
If you have no idea what you'll major in or what kind of job you'll pursue, here's one way to think about you're borrowing limit: The government allows dependent students pursuing a bachelor's degree to borrow up to $31,000 in federal loans.
"If that's what the government allows, there's reason to believe that's a safe amount," said Kathy Ruby, a college finance consultant at College Coach and former financial aid officer at St. Olaf College and Shippensburg University.
Any additional borrowing will likely have to be in a parent's name. They'll want to think about how much they have saved for retirement, whether their home is paid off, and how many other children are going to college when taking out debt, Chany said.
$10,000 of debt will cost you $100 a month
It's important to understand how much your debt will cost you. You'll be paying back more than what your borrow because of interest.
Interest rates on federal loans change each year. (Last year, the interest rate on undergraduate loans was 4.45%.)
But here's a rough estimate from Joe DePaulo, CEO of lender College Ave Student Loans.
For every $10,000 you borrow in federal loans, you'll owe about $100 a month for 10 years. So if you borrow $30,000, you're looking at a monthly student loan payment of $300, give or take.
In this case, the first $300 of your monthly take-home pay will be gone before you can pay for anything else.
Related: The best ways to borrow money for college, if you have to
This monthly payment could be lower since there are several different loan repayment plans. But paying less in the beginning means you'll be paying more later on.
Here's another rule of thumb from Angela Galardi Ceresnie, the COO of student lender Climb Credit: Your monthly loan payment should be no more than 10% of your monthly take-home pay.
Should you go to college at all?
People with a college degree earn more over the course of their career than those without one. But if you start and don't finish college, some of the earnings bump will likely be lost.
Less than half of the people who go to college actually should, said Bryan Caplan, an economist and author of The Case Against Education.
The rest either choose a low-paying major or don't finish their degree, so it's not worth their time and money, he said.
"If you just think of education like any other investment, the success rate is crucial," Caplan said.
If you didn't do well in high school and scored low on the SATs, it might mean you shouldn't pay anything for a four-year degree.