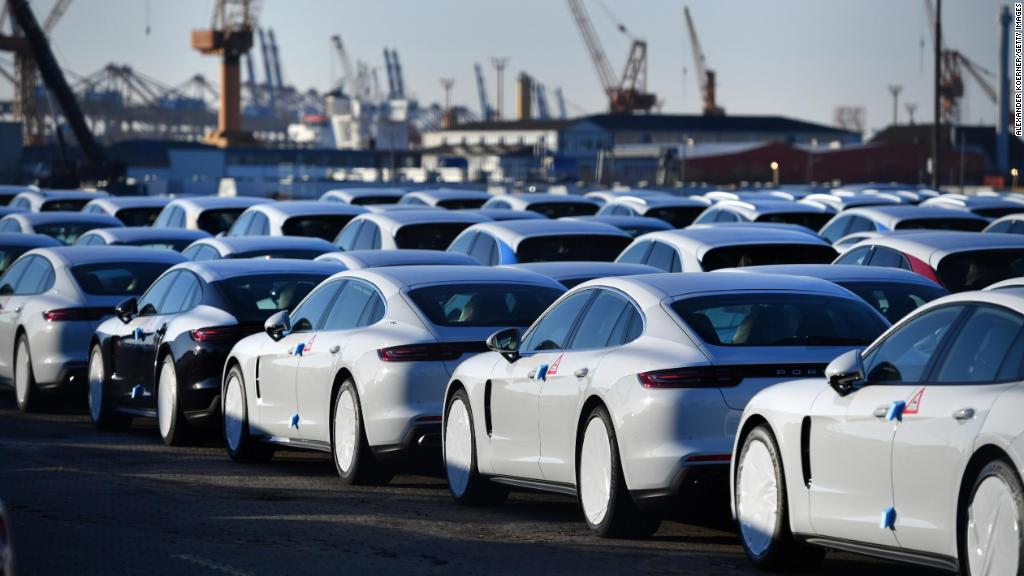 The possibility of a new US tax on imports of cars and auto parts is a threat to the global auto industry.
But some have more to lose than others.
Aside from American drivers, who would have to pay more for new vehicles, many big automakers would suffer dearly if the US follows through on a threat to impose tariffs on imported cars, SUVs, vans, light trucks and automotive parts. The Wall Street Journal reported President Donald Trump could seek tariffs of as much as 25% on auto imports.
Mexico and Canada are currently the biggest suppliers of US car imports, worth a combined $89 billion annually. There's no doubt they'd feel a massive amount of pain if tariffs are enacted.
But many analysts expect that these US neighbors could ultimately be exempt from any new tariffs, as the US renegotiates the NAFTA trade deal with them.
"If we try to read the tea leaves here, there should be a NAFTA deal at some point that will exempt Canada and Mexico from this discussion. But as of now, we just don't know," said Jeff Schuster, a leading auto expert at LMC Automotive in Michigan.
If you take Mexico and Canada out of the equation, that leaves Japan and Germany in the firing line.
Japanese and German car manufacturers are expected to feel the biggest impact since they ship the most cars to the US market in terms of sales value.
The US imported $40 billion worth of Japanese-made passenger cars in 2017. It also imported $20 billion worth of German-made cars in the same year.
Volkswagen (VLKAY), the biggest auto manufacturer in the world, might take the biggest hit since 45% of the cars it sells in the US come from international factories, according to data from LMC Automotive. To be more exact, over 281,000 imported Volkswagen cars could face a tariff at the US border. (This calculation excludes the Volkswagen cars that come from Mexico.)
Shares in Volkswagen dropped 2.5% on Thursday on news of the potential tariffs.
Toyota (TM), Japan's biggest auto manufacturer, would also suffer since 30% of its cars sold in the US are imported from abroad. That means new tariffs on nearly 724,000 cars.
Shares in Toyota dropped 3% in Japan.
"There's a lot at stake here," warned Schuster.
American automakers could also be hurt by tariffs on cars made abroad. GM (GM) sold 3 million cars in the US last year, but it made just 2.2 million vehicles in the country. That means it imports thousands of models each year.
Related: Tesla is cutting prices in China
The US administration seems undeterred by the risks or concerns that new tariffs this could lead to a tit-for-tat retaliation.
Commerce Secretary Wilbur Ross said late Wednesday that following a conversation with Trump, he is launching an investigation into whether automobile imports are hurting US national security.
The type of investigation, known as Section 232, is the same approach the Trump administration used before it slapped tariffs on steel and aluminum imports earlier this year, citing national security concerns.
Currently, vehicles shipped from Europe to the US face a low 2.5% tariff. Meanwhile, cars built in America face a 10% tariff when they're shipped to the European Union.
Experts have suggested that rather than threatening a new tariff on global car imports, the US should negotiate with other nations to get them to lower their own tariffs.
For example, if the EU were to drop its tariffs below 10%, that would help make American models more attractive to European buyers.
The US has already had some success with China in this regard.
China announced this week it would cut car tariffs, giving a potential boost to foreign automakers in the world's largest market.
The Chinese Finance Ministry said Tuesday that it will cut import duties on passenger vehicles from 25% to 15%, starting July 1.
-- Robert North and Charles Riley contributed reporting.