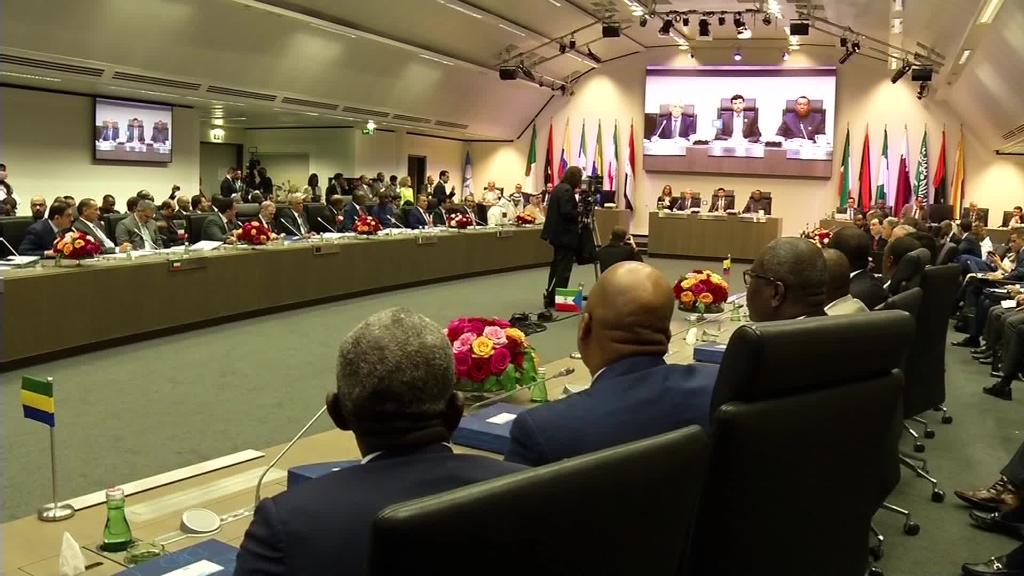 President Donald Trump has asked Saudi Arabia's king to increase oil production to make up for a shortfall from Iran and Venezuela.
In a tweet on Saturday, Trump said King Salman bin Abdulaziz Al Saud had agreed to his request to boost production by "maybe up to 2,000,000 barrels."
"Just spoke to King Salman of Saudi Arabia and explained to him that, because of the turmoil & disfunction in Iran and Venezuela, I am asking that Saudi Arabia increase oil production, maybe up to 2,000,000 barrels, to make up the difference...Prices to high! He has agreed!" the tweet read.
Oil prices have spiked in the past week, and on Thursday crude rose above $74 a barrel for the first time since late 2014. The 13% surge in prices has been driven by a series of factors in the international oil market that will trickle down to US drivers filling up their gas tanks.
Saudi Arabia said in a statement on the state-run Saudi Press Agency on Saturday that King Salman had received a telephone call from Trump and the two discussed the need to make efforts to "maintain the stability of oil markets." They also spoke about the efforts of producing countries to compensate for any potential shortage of supply, the statement said.
There was no confirmation that Saudi Arabia would increase oil production, as President Trump said.
Oil prices spike 13% in a week. What the heck is going on?
The development comes days after Saudi Arabia,the world's biggest oil exporter, agreed to go all in with production. The leader of OPEC said it plans to pump a record-high 11 million barrels of oil per day in July, according to reports.
Saudi Arabia's pledge followed a meeting earlier this month in Vienna of OPEC members, Russia and other oil producing countries. OPEC and Russia reached a complicated agreement during the talks, with OPEC agreeing to pump more oil -- but perhaps not as much as some had expected. Prices spiked after the agreement was released.
Trump tweeted of the meeting: "Hope OPEC will increase output substantially. Need to keep prices down!"
The price of crude has been on a wild ride over the past few months.
Oil prices rose sharply in the spring as production collapsed in crisis-ridden Venezuela and traders anticipated Trump's withdrawal of the United States from the Iran nuclear deal. The State Department is now insisting that other countries stop importing Iranian oil -- or face sanctions from Washington.
India may ignore US demand to halt Iran oil imports
Meantime, a major oil producer in Canada suffered a power outage, disrupting the flow of crude to the United States, and outages in Libya and Angola further reduced global supply.
Investors are betting Saudi Arabia has little room to respond to a future crisis should it boost output even more to meet Trump's request, as Saudi Arabia only has about 2 million barrels of unused capacity, according to International Energy Agency.
Russia, Iraq, the UAE and Kuwait jointly have another million barrels, so there is spare production of 3 million barrels a day.
Khalid al-Falih the Saudi Energy Minister, told CNN's John Defterios in an interview at the latest OPEC meeting that the demands by major consuming nations would be met, but he didn't expect the kingdom to add 2 million more barrels a day.
FGE, an energy consultancy, said in its June newsletter that the US is determined to "push Iran's exports to zero." Added to the losses from Venezuela, is there enough capacity to replace the lost Iranian volume?? It is highly doubtful," the group said.
"This will push the system close to the limit," and spare production capacity could fall below 2 million barrels a day -- a level previously associated with $100 per barrel prices, the group said.
--CNN's Matt Egan, John Defterios and Spencer Feingold contributed to this report.