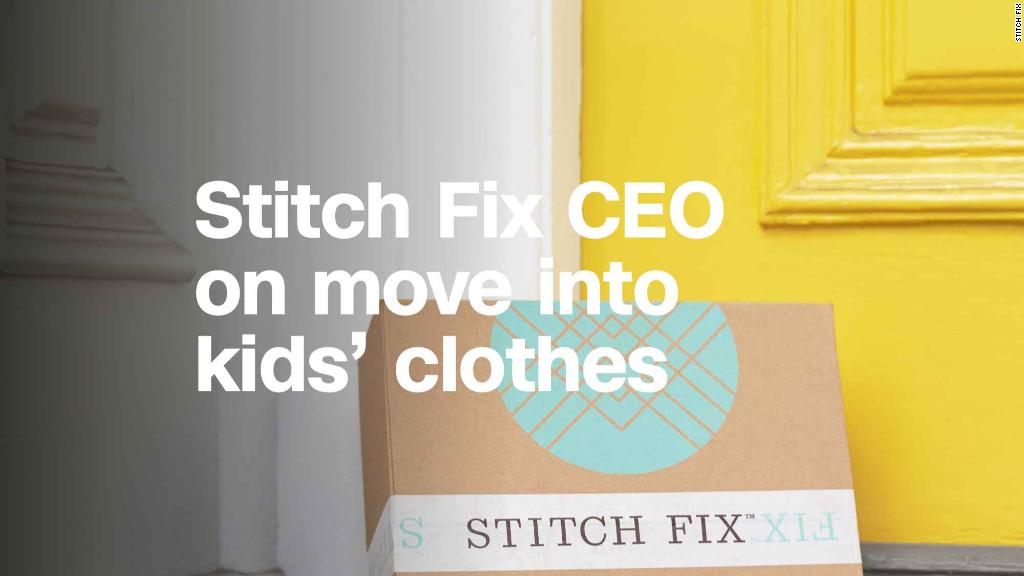 Stitch Fix wants to dress your kids.
After mastering the digital clothing model for adults, Stitch Fix debuted a collection for kids earlier this week.
Stitch Fix's expansion allows it to tap into the United States' $69 billion children's apparel and footwear market, and it serves as a test case for whether an online style service will work with kids.
More than half of Stitch Fix's 2.7 million customers have children, and the company wants to get them hooked too, founder and CEO Katrina Lake told CNN's Poppy Harlow in a new "Boss Files" podcast.
"It's really about serving the whole household," she said. "Even at these very young ages, they have their preferences, and they have this belief about what looks good on them."
Lake also said it can be challenging for some parents to take their children out shopping, and Stitch Fix Kids will offer them a "better solution."
Parents can order a curated box of pants, t-shirts, dresses, button downs, and fleeces designed for kids ages two to 12. The collection, which doesn't require a subscription, costs between $10 to $35 an item and features more than 50 brands, including Under Armour, Nike, and Toms. Stitch Fix mails a box of up to 12 choices for children to try on at home, and then the adults send back what doesn't work for the kids.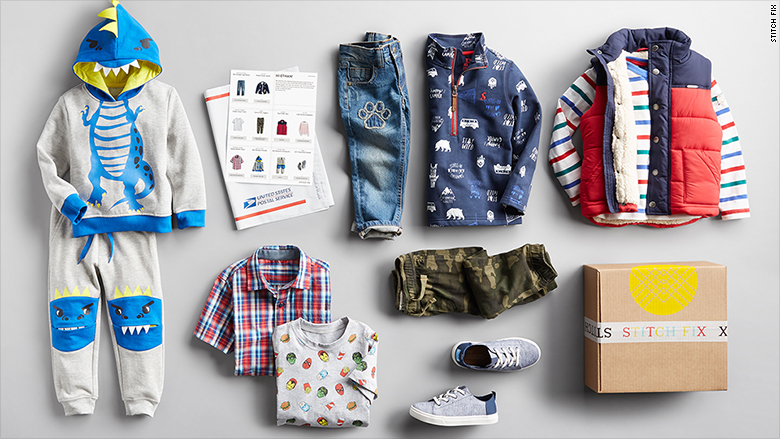 Stitch Fix (SFIX) has impressed Wall Street since its initial public offering last November. The company's stock has more than doubled as it proves it can grow its active customer base, sales, and profit. KeyBanc Capital Markets initiated coverage on Stitch Fix Tuesday with a "buy" rating, lifting the stock to its all-time high.
Related: Big retailers are testing out subscription services
Stitch Fix Kids is launching ahead of the annual back-to-school shopping season, which is projected to hit a seven-year high on the strength of healthy consumer spending, retail firm Customer Growth Partners predicted.
But competition in children's clothing is as tough as the fight in adult apparel.
People in America are having children later in their lives, so many parents are further along in their careers. That means they have more disposable income to spend on their children, and they may be willing to trade up for designer clothes for their kids, said Euromonitor senior research analyst Ayako Homma.
Budget-conscious parents also have more options to choose from at the lower end of the scale. Walmart, for example, launched Wonder Nation, its first kids' line, in March.
Yet the pace of growth in the industry is expected to slow over the next few years as the birth rate declines and more retailers turn to discounts and promotions, noted Neil Saunders, managing director at GlobalData Retail.
Related: Why diapers are in trouble: Americans are having fewer babies
Sucharita Kodali, a retail analyst at Forrester Research, questioned whether parents will be willing to trade up for higher- priced clothes that their kids will quickly outgrow.
"The biggest challenge for the kids space is it's an uphill battle to convince parents they need this, and then to get them to stay loyal to the program," she said. "Stitchfix has built its business on being an alternative to Macy's, which has slightly higher price points. I can't imagine that parents would pay more than $100 for a subscription box of clothes."
Stitch Fix will have to compete with a crowded field, led by legacy brick-and-mortar retailers. Carter's (CRI), the market share leader, controls more than 10% of the industry, followed by Gap (GPS), Nike (NKE), The Children's Place (PLCE), and Target (TGT), according to Euromonitor.
Related: Walmart and Target are spending like crazy to stop Amazon
In recent years, these companies have updated their kid and baby choices and invested in expanding their subscription presence. Target debuted a subscription service for babies under its Cat & Jack line earlier this year, while Gap has launched subscriptions for BabyGap and Old Navy kids.
Startups are also testing out the kids' clothing subscription market. Kidpik, founded by a former Children's Place executive, serves customized picks to girls, while Kidbox offers 100 different brands. Rockets of Awesome also sends kids a curated box of clothes four times a year.
Amazon is becoming a bigger factor, too. Last year, Carter's partnered with Amazon to create Simple Joys by Carter's, an exclusive line for Prime members. Amazon also recently added its own private label for kids called Spotted Zebra.
But Lake believes Stitch Fix Kids will stand out from rivals. "We're about personalization, and we have a multi-brand approach," she told Harlow. "We're able to serve multiple price points and multiple styles."