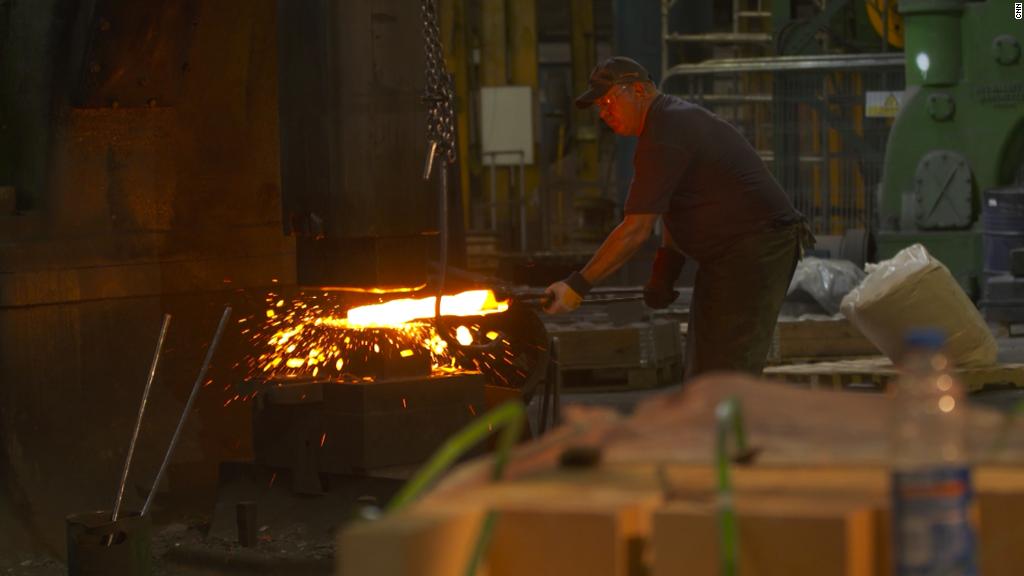 Peter Davies watched as the UK steel industry was decimated by foreign competition, plunging prices and higher energy costs. Now he's beginning to panic.
The chief executive of Original Steel Services, which has four steelworks in the United Kingdom, has warned that tariffs imposed by the Trump administration are putting his company under pressure. Brexit could make things even worse.
"We're used to getting hit by incoming shrapnel, but for the first time in my life, I am genuinely worried," he said.
The steelworks take raw metal — most of it from Germany — and process it into custom grades and sizes. More than half of sales are to the United States, where the material is used in mining, railway and oil and gas products.
Highly specialized, the products are not subject to new US tariffs on steel and aluminum, but Davies said that buyers are looking for new sources because of fears the trade conflict could escalate further.
"We've already got emails and letters from some of our major customers asking what the implications are of these tariffs," Davies said. "They're already looking at alternative supply."
Related: A transatlantic trade war is brewing. Can it be stopped?
Davies said the uncertainty has caused him to delay six-figure investments at his plants, which employ 200 workers in the West Midlands region of central England.
"If you're a multinational or you've got billions in the bank, then it's fine, you can ride these things out," Davies said. "But we live day to day, and like a lot of small companies the tariffs are a major problem."
The pain could soon be compounded by another potential economic disaster: Brexit.
A subsidiary of Original Steel Services, Bromford Iron and Steel exports high-grade steel to the European Union, where it's used in everything from horseshoes to handrails.
But with less than nine months to go before the divorce, UK exporters still don't know whether they'll face new regulations, tariffs or customs checks.
Davies says that leaving the bloc without a deal on trade would make his products up to 10% more expensive for European customers.
"We would probably lose up to 50% or 60% of our market, and that would be devastating," said Davies. "We haven't got the luxury of a year or two years to go around the world finding new business."
Related: Brexit is killing investment in UK car industry
Demand for steel could also drop in the United Kingdom.
Car manufacturers, which rely on complex international supply chains, are worried that Brexit will lead to new trade barriers and delays at the borders. Investment in the UK auto industry plunged in the first half of this year.
Jaguar Land Rover has warned that if the United Kingdom leaves the European Union without maintaining a smooth trading relationship with the bloc, over £1.2 billion ($1.6 billion) of its annual profits would be wiped out.
Gareth Stace, director of the industry group UK Steel, said the pain would trickle down to UK suppliers.
"These small companies are the engine room of the manufacturing sector in the United Kingdom," said Stace.
'We need some clarity'
So much metal was once produced in the West Midlands that thick smoke from the ironworks led one section to be dubbed the Black Country. Many workers at Original Steel Services have been on the job for decades, surviving cheap steel from China and waves of automation.
Some voted for Brexit because they think the European Union hasn't done enough to protect manufacturing jobs, and because they wanted to reduce the number of immigrants coming to the region.
"When I look around me, the conditions we're living in are getting worse," said Andrew Rich, the operations manager at Bromford Iron and Steel.
Despite the risks to his employer, Rich said he sympathizes with Trump's tariffs because he understands the desire to protect local industry. He also still supports Brexit and said that politicians in London and Brussels both need to work to come to an agreement.
"We need some certainty," he said. "We need to know what's going to happen and then we can respond, but at the moment, I don't think anybody knows."