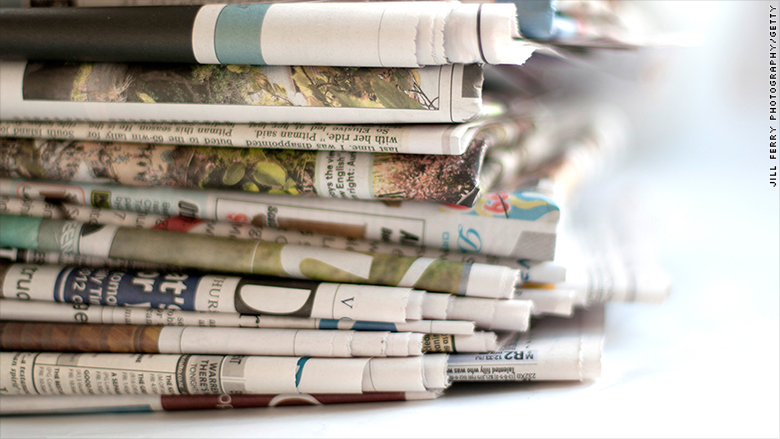 The signs that it was time for Larry Ryckman to leave The Denver Post were all there.
The newspaper's hedge fund owners cut staff by a third in March. And when a Post editorial openly criticized those owners in print, the relationship between several of its journalists and corporate management became untenable.
"We were under attack by our owners," Ryckman told CNNMoney. "This was never going to end as long as Alden Global Capital owned The Denver Post."
Ryckman resigned as senior editor of news in May, but he hasn't left journalism. With the help of a crowdfunding campaign and the backing of an unorthodox investor, he and a group of former Post staffers are about to launch their own news outlet in Colorado later this summer where he'll serve as editor.
Related: When newsrooms fight their owners
Many upstart efforts, including Ryckman's, are still finding their footing. But they provide a glimmer of hope for local newsrooms that have been ravaged by budget cuts and painful layoffs.
That optimism is largely because of independent ownership. Some of the industry's biggest troubles have been underscored in recent months by high-profile clashes between corporate owners and journalists.
Weeks before The Denver Post's editorial board revolted against Alden Global Capital, for example, journalists at The Los Angeles Times fought their own high-profile battle with management at Tronc (TRNC). The Chicago-based parent company eventually sold the paper after workers unionized.
Tronc was back in the headlines this week after it fired half of the editorial staff of The New York Daily News, a 99-year-old tabloid it bought a year earlier.
Related: New York Daily News to slash 50% of its newsroom
Ryckman's new organization, The Colorado Sun, looks nothing like his former employer. The Post was one of dozens in a chain owned by a massive corporate overseer. He says his new publication is owned entirely by the journalists who run it.
"For the first time now, we at least feel that our fate is in our own hands — that we have a fighting chance to be successful," he added. His 10-person staff will cover politics, business and the environment around the state.
Many of Ryckman's investors came from Kickstarter, not a corporate office. The $161,000 raised through the website will be used to fund newsgathering, hire freelancers and obtain public records. Although he has a large institutional backer, that money comes from place that can hardly be called conventional.
Civil Media, a blockchain company, has dolled out about $1 million in grants to a dozen news organizations, including The Sun. It wants to eventually support as many news organizations as it can through what it says is a decentralized model for journalism.
While Civil CEO Matthew Iles would not disclose how much of the grant money goes to each outlet, he said the newsrooms will be given enough of a "runway" to prove themselves. Along with The Sun, Civil is also funding investigative websites like Documented, policy-oriented outlets like Cannabis Wire and the international media group, Global Ground.
He also has lofty ambitions for the network's future. Civil will soon debut its own cryptocurrency, and plans to sell up to $32 million worth of the tokens.
According to Iles, token owners will help keep a check on newsrooms that are part of Civil. All participants will need to abide by a journalistic code of ethics, and the community can challenge any content they believe runs afoul of that code.
"The idea is to create a haven for independent, ethical journalism that keeps off spam, keeps off trolls, keeps off misinformation, period," Iles said. To avoid what he called "mob rule," a council of journalism experts led by former NPR president and CEO Vivian Schiller will act as a final arbiter for any challenge.
Dan Kennedy, an associate journalism professor at Northeastern University, said he's skeptical of Civil's concept, and cautioned against taking too much control away from leadership.
"You have to strike a balance," he said. "I really don't think you can run a news organization as a democracy."
But he added that the idea of independent, online news organizations that eschew the typical corporate model have been around for a while.
"Traditional digital advertising does not work for news," Kennedy said. "That's why people are moving away from it."
Print news organizations, which used to make money off of advertising in their paper publications, have seen that revenue dry up. And digital advertising has become particularly hard in an era where Google and Facebook dominate the marketplace.
Some newsrooms have given up on digital ads entirely. Gothamist, a local news website in New York City, used to rely heavily on ad support, according to executive editor and co-founder Jen Chung.
The website, which was part of a group of outlets owned by billionaire Joe Ricketts, was abruptly shut down last year. It reopened this year after being purchased by the public radio station WNYC, and raised $200,000 through a Kickstarter campaign.
"That was the first time that we ever asked our readers to support us," Chung said. "Now, we are at an organization that has a mixed revenue model, which to be honest, can be a lot of relief, because you're not solely worried about your advertising or sponsorships."
The challenge is whether a news organization can reliably earn enough money without advertising to stay afloat. Longstanding nonprofits like ProPublica and the Texas Tribune, for example, collect donations, work with sponsors and hold events to generate money, similar to the Gothamist route.
"If you're producing content and information that people value, they'll want to continue to support it," said Christine Schmidt, a staff writer at the Nieman Journalism Lab at Harvard University. "Those are the kind of items that are not just driven by clicks and ad revenue."
That's also the hope for other upstarts, like the neighborhood news website Block Club Chicago. The group was created by former employees of DNAinfo, a local news hub that was also owned and closed last year by Ricketts.
Related: Billionaire pulls the plug on DNAinfo, Gothamist after employees unionize
The founders of Block Club Chicago, which is also backed by Civil, say they knew they still had an audience when a Kickstarter campaign helped them raise more than $180,000. They're hopeful that donations and subscription revenue can keep them going — the website is entirely ad free.
"We are accountable to our readers, not to hedge funds," said Stephanie Lulay, the newsroom's managing editor and co-founder. "That's the model that we want to pursue going forward."