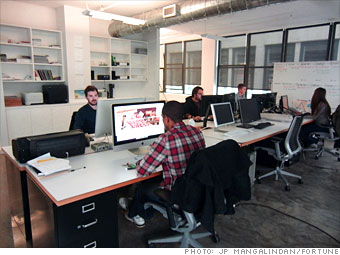 Year founded: 1999
Staff: 9
Founders Brian Lemond and John Szot first met in architecture school at the University of Texas during the early 1990s. Both were interested in exploring new opportunities with digital media and new web technologies but had no grand plan. They went their own ways -- Lemond became senior art director at the Guggenheim Museum, Szot practiced architecture -- until 1999 when they started up their digital marketing business in an apartment on Henry and Atlantic Streets in Brooklyn Heights.
Since then the company moved around several times before settling into a studio space in DUMBO three years ago, and now it caters to clients like the Guggenheim, Gucci, the Corcoran Group, and Levi's. For Gucci, Lemond and company produced 30-second teasers and full-cut videos promoting the luxury brand's revamped website and Tokyo headquarters in the Ginza district.
"When we first started doing this, people were interested in digital media, but it was a bit of a novelty," says Lemond. "You really had to work hard to sell them on the value of what you could bring them. Now, people perceive it as a real industry. I find that we now do much less selling of the need for the service and more selling of the quality within those services we can provide."
NEXT
Last updated December 06 2010: 10:54 AM ET