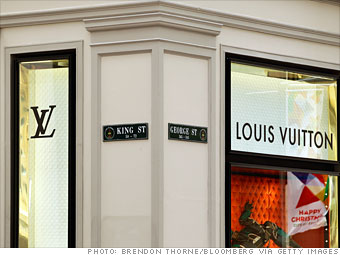 Ideal:
Louis Vuitton exists to luxuriously accentuate the journey of life.
The iconically recognizable luggage of Louis Vuitton is a favorite of the rich and famous as well as street-side copycats. The monogrammed bags are a knock-off mainstay, and police recently shut down a slew of fake-purse-peddling websites as part of a Cyber Monday crackdown.
The Louis Vuitton brand is the mainstay of the Paris-based luxury powerhouse Louis Vuitton Moet Hennessy. (Moet and Hennessy also rank among the Stengel 50.) Since its founding by a luggage maker's apprentice nearly two centuries ago, the brand has positioned itself as a leader in what Stengel calls "the art of travel." City guides were a natural extension of the product portfolio, and the company's international stores have become tourist destinations in and of themselves.