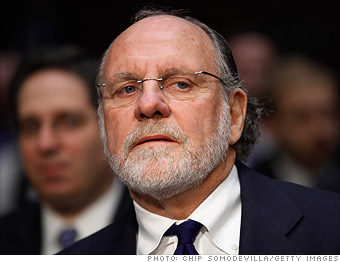 It wasn't just the massive bet on Europe. Or the massive leverage that recalls the days of Lehman, pre-bankruptcy in 2008.
But just where is that $1.2 billion?
"I simply do not know where the money is," said Jon Corzine, the CEO of bankrupt MF Global, when he appeared to testify to a Congressional committee in December.
For some on Wall Street, Corzine is the Grinch who stole Christmas. Thousands of investors lost their money and more than 1,000 employees were laid off after the brokerage house went bust in October.
Corzine, a former New Jersey governor and former chief executive at Goldman Sachs, took the helm at MF Global in 2010 with plans turn the firm into something much more than a brokerage house.
Instead he turned it into the first major U.S. casualty of the European debt crisis. -- Nin-Hai Tseng