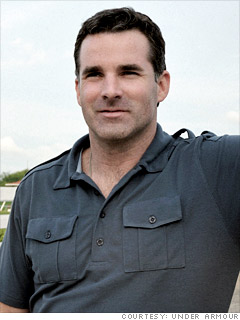 Founder and CEO, Under Armour
Age:
39
Industry:
Apparel
In 2011 sports apparel whiz Kevin Plank took Under Armour past the billion-dollar mark (2011 projected revenue: $1.44 billion) only 15 years after starting the company as a college undergrad. The brand has become a key player that, while much smaller than Nike overall, has the giant on guard in compression apparel and plenty of other markets. This year Under Armour will push its new footwear campaign with Tom Brady and Cam Newton.
First job:
Shoveling snow at age 10. "Most kids were screaming and excited on snow days, but once I got up, it was time to grab a shovel and go see the lady with the cats down the street."