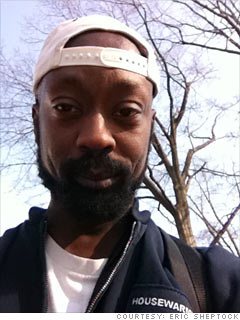 Eric Sheptock, 42
Washington D.C.
Though he's been homeless since 1994, Eric Sheptock is fortunate that he has been able to stay at a Washington D.C. shelter for nearly three years.
While he doesn't have a formal job, he is a vocal advocate for social services. He and other activists have battled the city multiple times over its plans to close shelters and cut budgets for social services -- winning some, but losing others.
Sheptock, who worked at a hospital as a young adult, can earn up to $200 a month speaking on behalf of the National Coalition for the Homeless and other groups. Otherwise, he depends on friends and soup kitchens to get by since he receives no government assistance.
"I don't have a high level of employability," said Sheptock, who grew up in foster care before being adopted. "I am kind of stuck in poverty unless I can find a good-paying job in the area of social justice."