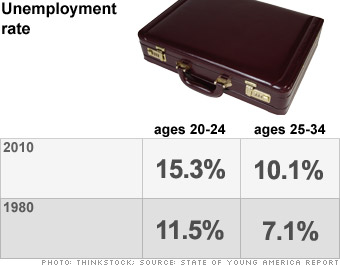 Following the Great Recession, unemployment hit America's newest workers the hardest.
The unemployment rate for 20 to 24 year-olds was 15.3% at the end of 2010. That's more than double where it was in 2000.
And even compared to 1980, when the parents of this generation were also starting their careers amid a recession, that's still high.
"We still have just about five unemployed workers for every available job, so there's no doubt that the economy today has made it much more difficult for young people to get their first job out of high school or out of college," Draut said.
Not having a job obviously affects the young in other ways, making them more likely to take on unsustainable amounts of debt, put off home ownership and delay starting their own families.
As of November, about 5.3 million people between the ages of 20 and 34 were unemployed.