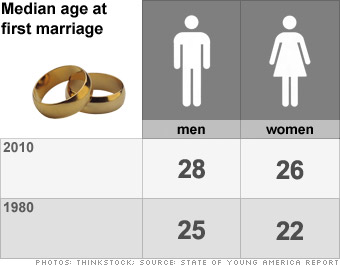 We've all heard the stats claiming financial conflicts are one of the top causes of divorce.
But they're also one of the key reasons why some people aren't getting married in the first place.
One in four young people say they have delayed getting married, simply because of the economy. Now, the average age for a woman to tie the knot is 26, up from 22 in 1980. For men, it's 28, up from 25 thirty years earlier.
"People sort of feel like, `I don't want to bring the other person down with my debt, and the responsible thing to do is get yourself on track before you tie your own economic fortunes to somebody else,'" Draut said.
Text by Annalyn Censky, Charts by Liz Starin
@CNNMoney
- Last updated December 13 2011: 5:49 AM ET