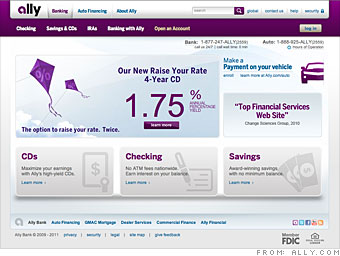 While other banks tack on fees and penalize customers, Ally is rolling out the perks. Not only does it offer free checking accounts with no monthly maintenance fee and no minimum balance requirement, but this summer it introduced a debit card rewards program where customers get money back for purchases made at qualifying merchants -- ranging from restaurants to convenience stores.

The annual yield on Ally's checking accounts range from 0.9% for accounts of $15,000 or more and 0.5% for accounts with less than $15,000 -- a premium to the national average rate of 0.18%.

Don't be deterred by the fact that this is an online bank. You can use any ATM in the country as many times as you want, and Ally will reimburse you for the fees. As for deposits, Ally gives customers postage-paid envelopes so you can mail them in or you can scan checks and submit them online for same-day deposit. You can also move money between an Ally checking account and other banks free of charge.

However, you won't be able to make a deposit at a branch or via smart phone -- at least not yet.