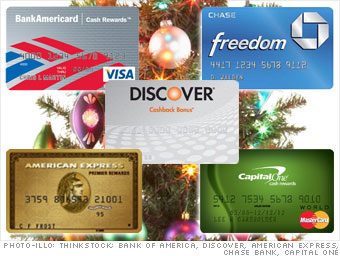 As the holiday shopping season gets into full swing, credit card companies are rolling out the incentives, including one-time cash back bonuses and discounts from retail partners, hoping to get shoppers to spend more.
To narrow down the choices, Bill Hardekopf, CEO of credit card comparison site LowCards.com, and Janna Herron, a credit card expert at Bankrate.com, weigh in on their top credit card picks this year.
But cardholders beware: "All these cards sound fantastic but it really depends on what your spending habits are," said Hardekopf. "What's better for me might be different than what's all better for you."
And don't be lured in by holiday incentives, alone, said Herron. "Make sure it's right for you for all of the time," she said. Cancelling that card in the New Year could end up hurting your credit score as would running up a balance you cannot pay off -- particularly after the attractive introductory APR expires.