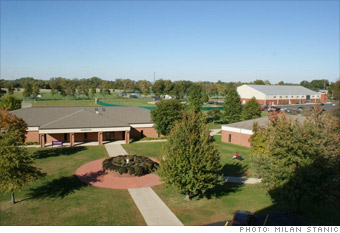 Location: Lincoln and Normal, Ill.
Tuition cut: 24%
Total tuition & fees: $16,500 (beginning in fall 2012)
Type of school: Private college with 2-year and 4-year programs
Number of students: 1,200 (between two campuses)
Lincoln College is sick of scaring students and families off with a high sticker price, so it's slashing tuition and fees for the upcoming school year.
"We're a selective institution in terms of admission, but we hope to increase the pool of people who consider us," said college president Jon Astroth.
Both new students and returning students will be able to take advantage of the price reduction. But in order for the college to afford the discounted tuition, it's lowering the financial aid it offers.
"Like most private colleges, we have a sticker price and then we discount tuition depending on a student's academic profile," said Astroth. "So when we reduce our sticker price, we'll reduce the discounts we give in institutional financial aid."
Lincoln College has two Illinois campuses, one in Lincoln and one in Normal, provides a 2-year or 4-year liberal arts education and awards both bachelor's and associate's degrees.