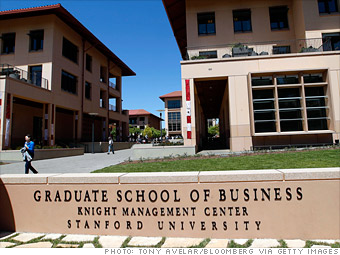 Index: 98.8
2010 Rank: 2
Average GMAT: 730
Acceptance rate: 12%
Median base salary: $125,000
Suggested two-year budget: $174,362
Stanford Graduate School of Business has been on a roll this past year. The school moved into a new, classy home, an ambitious $350 million campus composed of nine world-class buildings. And the school just received $150 million from an alum -- its largest gift ever -- to help establish a new institute whose goal is to combat poverty around the world.
But the school's main attraction is its location in the midst of Silicon Valley, the world's high tech center. Many graduates end up working for startups and the Valley's giants, from Apple and Google, to Hewlett-Packard and Intel, or starting their own companies from scratch.
Stanford's first-year Management Foundation courses offer students a menu of choices in each required discipline, tailored to their skills, experience, and career goals. Stanford students also have the option to incorporate courses -- and especially joint degrees -- from other graduate programs at the university.
Percentage of MBAs with job offers at graduation: 84%