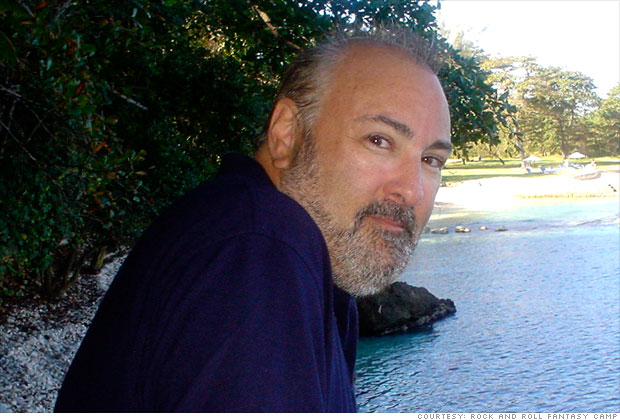 Owner(s): David Fishof
Whether your experience has been limited to an air guitar or a hairbrush microphone, David Fishof wants to release the inner rock star in you.
Fishof, who was road manager for such rock legends as Ringo Starr and The Eagles' Joe Walsh, founded Rock and Roll Fantasy Camp in 2000 with $2,000. The camp features rock headliners and his old friends to be camp counselors who play alongside the campers.
These counselors have included such legends as Vince Neil of Motley Crue, Roger Daltrey of The Who and Steven Tyler of Aerosmith. Fishof tapped a vein of longing. Next year's revenue is projected to be between $4 million and $6 million.
Camp sessions are offered six times a year in locations like Abbey Road Studios in London, Avatar Studios and The Gibson Showroom in New York City and even The Playboy Mansion in California. Prices vary by the length of stay at camp and the location.
The price for one event, featuring Warren Haynes of the Allman Brothers, Matt Sorum of Guns 'n' Roses, and Bruce Kulick of KISS costs between $5,499 and $7,499. It's an additional $799 if you want to bring your own groupie.
Equipment is provided and campers get placed in "bands" according to their skill level. If a camper has never held a guitar, he or she will get handed a tambourine and encouraged to sing. If the camper is an old pro, there is a Masters Program. There is also Young Rockers, for kids 12 to 16.
Everyone can attend music or songwriting classes, and rehearse and jam with the stars. The bands even write and record an original song during their stay. Then everyone performs live at a major venue like The House Of The Blues or Whiskey A Go Go, taking home a video of their performance and as many autographs from the star counselors as they can carry.
Campers come from all walks of life from CEOs to firefighters to retirees. Wives most often send their husbands as a gift -- although 35% of campers are women -- and more than half come back more than once.