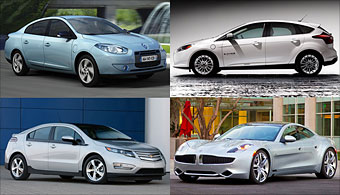 Skeptics just can't shake their doubts that plug-in hybrid and all-electric vehicles will catch on anytime soon. They have a lot to be wary of: Gas prices have remained steady, new oil deposits are being exploited, and internal combustion engines are becoming more efficient. Sales have also been slower than expected, and two EV companies went bankrupt in 2011. Hardly auspicious.
Despite all that, EV advocates like Renault-Nissan's Carlos Ghosn remain cheerfully optimistic. Ghosn wants to be selling 1.5 million plug-ins and pure EVs by 2017. He's got a lot of skin in the game. Renault-Nissan has invested $5.6 billion in research, batteries, and vehicle development.
Nissan's all-electric Leaf was a pioneer in 2011, but it's getting lots of competition in 2012. Having locked their plans several years ago, automakers -- including some high-profile ones -- will be introducing a remarkable assortment of EVs and plug-ins this year. Buyers will have a choice in all-electric range from 15 miles to 300 miles, and prices from $22,000 to more than $100,000. Hopefully we won't need another spike in energy prices for them to catch on.