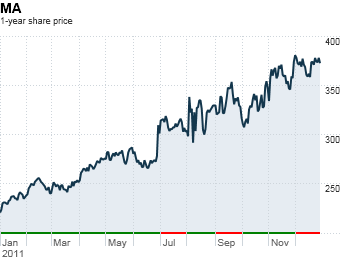 2011 revenue: $6.7 billion
2011 total shareholder return: 66.7%
High unemployment might have constrained U.S. consumers, but that didn't hurt the world's second-biggest credit card network as consumers continued to shift from cash and checks to plastic.
Shares of MasterCard, based in Purchase, NY, surged as profits rose and its market share grew. The company has increased efforts to expand globally, with growth in Brazil and the Netherlands contributing to strong earnings.
MasterCard stock rose 66% last year, making it one of the top performers in the Standard & Poor's 500 Index. It got a big boost in June, when new government regulations limiting fees charged whenever a consumer swipes a debit card came in more lenient than expected.