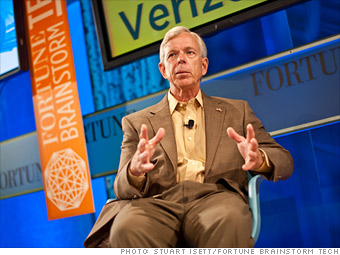 Company: Verizon Communications
Lowell McAdam may be in charge of a large wireless network, but he started his career with a very hands-on job. He built stuff, specifically, with a branch of a Navy called the Seabees -- the Navy's construction unit. In fact, McAdam and his fellow Seabees helped build the set for the movie "Top Gun."
"I feel honored to have served in the military," McAdam says. "I've told many others that it's a great way for anyone to start any career. The things you learn in the military stay with you for life, and the bonds developed among service members are also lifelong and serve you well in a business career."
McAdam grew up in upstate New York, then attended Cornell on a Naval ROTC Scholarship. He spent six years in the U.S. Navy Civil Engineer Corps with the Seabees. McAdam started working at Verizon Wireless in 2000 and became its CEO in 2007. He was then hired as COO for Verizon Communications in 2010 and took over as CEO there in 2011.