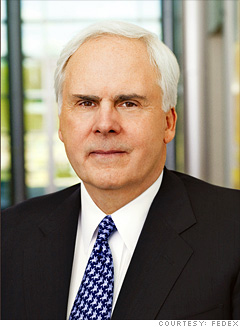 Company: FedEx
"I do not believe I could have built FedEx without the skills I learned from the Marine Corps," says Frederick Smith, founder and CEO of FedEx. "The Corps altered my life, and I have always been grateful to it."
Frederick Smith founded the company, then called Federal Express, back in 1971. Smith graduated with a B.A. from Yale in 1966. While there, he says he decided to enlist in the Marines. Smith then served in the U.S. Marine Corps from 1966 until 1970. During that time, he did two tours in Vietnam.
"My four years in the Marine Corps left me with an indelible understanding of the value of leadership skills," Smith says. "Leadership is simply the ability of an individual to coalesce the efforts of other individuals toward achieving common goals. It boils down to looking after your people and ensuring that, from top to bottom, everyone feels part of the team. Like in the Marine Corps, FedEx is a team effort and it takes all 300,000 of us working every day to satisfy our customers."