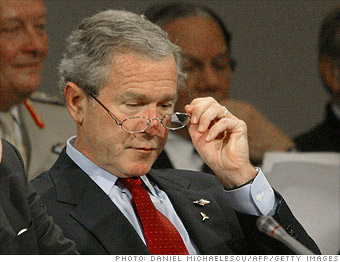 It's true that President Bush lowered tax rates for everyone in 2001, but the rich benefited more than other Americans.
The Bush tax cuts were a primary driver of the growth in income inequality over the past decade, the Congressional Research Service found.
The tax cuts reduced the middle three income tax rates of 28%, 31% and 36% by 3 percentage points, while shaving 4.6 percentage points off the top rate of 39.6%. It also created a new 10% bracket.
This knocked roughly $11,000 off the tax bill of those in the top quintile of taxpayers, on average, according to the non-partisan Tax Policy Center. They got to keep an extra 5.4% of their after-tax income.
But the middle quintile only received a 2.6% boost in their after-tax income, or about an $1,100 tax break. The bottom quintile had just a $74 reduction in taxes, about a 0.7% change in after-tax income.