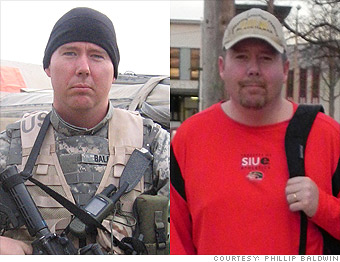 Then: Staff sergeant in Afghanistan, two tours, ending in 2006


Now: Law student
Phillip Baldwin was an infantry squad leader with Rowley in 2006, when he was shot in the foot and spine during his second tour in Afghanistan. He was medically retired with partial paralysis in one leg and a host of other medical problems.
The 40-year-old father of four had joined the Army late in life, after establishing a civilian career as conductor and dispatcher with the St. Louis railroad. He returned to the railroad, though his wounds prevented him from being a conductor.
He said he eventually lost his job as a dispatcher, because of the difficulties posed by his injuries. "They didn't have to keep on a damaged employee who really didn't add a tremendous amount to their work force," he said. "I acknowledge that. [But] I felt kind of ashamed."
So Baldwin went back to college on the GI Bill. He expects to graduate from Southern Illinois University Edwardsville in May and has been accepted into law school at St. Louis University. Baldwin said he wants to become a "productive part of society."