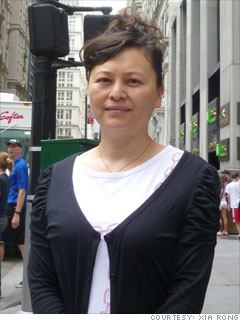 Xia Rong, 49
Chengdu
Real Estate Manager
I live in Chengdu, a city of western China where I used to be a government employee since 1980. Thanks to China's economic reform in the late 80s, I had a chance to work part-time at a Taiwan-funded corporation that was expanding to mainland China.
My income multiplied and since then, I started learning how to manage my personal finances.
I purchased a commercial space and a condo apartment and invested in the stock market. I also left government, and joined a private-owned realty company as a manager. My annual income rose from about $6,000 to $24,000.
As the economy improved, giving my child a good education has become my primary goal. She moved to the U.S. in 2006 for college and successfully found work after graduation. She now is a permanent resident in the U.S.
Meanwhile, I love traveling. I've been to multiple countries and regions including the U.S., Japan and Southeastern Asia, as well as cities across China. Considering my income, I don't necessarily think I'm in the middle class, but in terms of the standard of living, I believe I'm living an easier life in Chengdu compared to my younger brother who immigrated to the U.S. two decades ago.