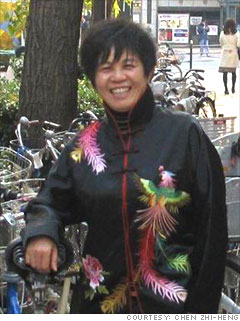 Chen Zhi-Heng, 50
Changsha, Hunan
Doctor
I entered my 40's in 2002. I was at a middle-level position in a hospital, my income was only around $300 a month. Ten years later, the hospital has been growing rapidly. Although my position hasn't changed much, my income has gone up to over $3,000 a month. I never considered myself as middle class, which in my opinion is at least $70,000. But if I take my husband's income into account, our family living standard is well above the average in China.
My whole family -- my husband, son and parents -- were living in a 1,300-square-foot apartment ten years ago. Now we own three apartments altogether.
We bought an imported car in 2008, which cost us $38,000. Before that, we'd been using my husband's company car for years since we couldn't afford it. Meanwhile, we sent our son to the United Kingdom for college and graduate school, and he now works in Beijing.
I'm now familiar with most of the world's famous brands and able to buy them: I wear a $4,700 Gucci watch, a $1,600 Burberry coat and a $320 Hermes silk scarf. I'm also able to spend $800 every month just for recreation.