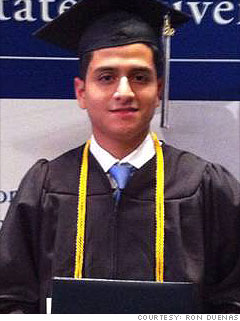 Name: Ron Duenas
Major: Marketing
College: Central Connecticut State University
I started working at First New England Federal Credit Union in 2008 as a part-time member service representative while attending college full-time. I always enjoyed the banking industry. I figured it would be a good way to get my feet wet.
I decided to approach First New England and see whether they would allow me to work in their marketing department as an intern during my most recent winter break.
First New England gladly accepted my offer and viewed my internship as a great way to expand their social media presence and to reach out to the ever-growing Generation Y population.
Being able to establish a relationship with the organization really helped me. I was able to prove who I was and what I could bring to the table. They viewed me as an asset. I could help them meet the different needs that they had.
As my internship came to a close, First New England created a position for me in the marketing department upon my completion of my degree.