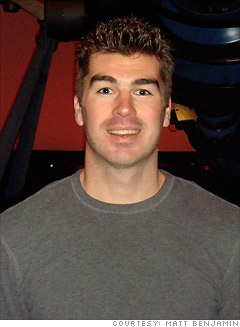 Matt Benjamin
Astrophysics, Class of `05
University of Colorado Boulder
I was a business major when I started college, and science was a hobby more than anything else.
But after I took two semesters of astronomy, I was hooked. Learning about business at that point almost felt as boring as learning about cardboard.
I studied astrophysics and planetary science, and worked in the planetarium as a student employee. I had thought about going to grad school afterward, but when my boss decided to leave, I took this job.
I now run the planetarium and its education programs. My job is to take complex science and information and put it in the public vernacular.
It goes against the idea that to be part of science you need a Ph.D. That's a gross misconception.
I think you can have a 0% unemployment rate in astrophysics, because it's constantly evolving. The universe is huge and there just aren't enough eyes to study it. There's really never going to be a shortage of jobs.