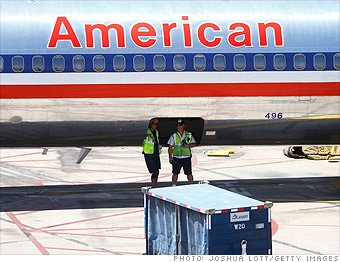 The nation's no. 3 airline plans to cut 13,000 jobs from its staff of 73,000.
Of those, most of the cuts will affect maintenance and ground workers. About 2,300 flight attendants and 400 pilots will also lose their jobs.
"We will end this journey with many fewer people. But we will also preserve tens of thousands of jobs that would have been lost if we had not embarked on this path," Thomas Horton, CEO of American Air parent AMR Corp. said in a letter to American employees.
American filed for bankruptcy in November. Over the past 10 years most other major U.S. airlines have gone through bankruptcy to cut labor costs.