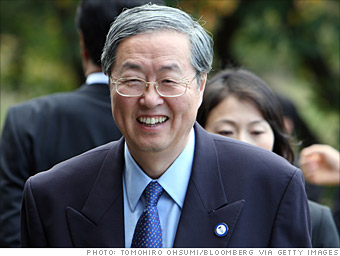 Governor of the People's Bank of China
Age: 63
During the global financial crisis and economic recession, Zhou Xiaochuan effectively controlled inflation while ensuring China's stable economic growth. And by tightening interest rates, Zhou has significantly reduced the chance of Chinese economy suffering a hard landing. He was recently named as Euromoney magazine's "Central Bank Governor of the Year."
Zhou, who was appointed by the chairman of the China Securities Regulatory Commission (CSRC) in 2002, was described by the Chinese media as one of Premier Wen Jiabo's "Four Major Financial Officials" alongside Ma Kai (former Chairman of the National Development and Reform Commission), Jin Renqing (former Minister of Finance) and Lv Fuyuan (former Minister of Commerce).
In March 2009, Zhou published a series of academic papers that explained the role of China's macroeconomic policy during the financial crisis. Among other things, he proposed reforms for the international monetary system, including a move away from the grip of the U.S. dollar and the creation of an international reserve currency that would maintain stability by decoupling from sovereign states.
Zhang Maiwen