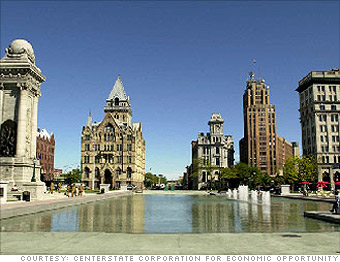 Median home price: $106,000
Median income: $66,600
Affordability score: 90.6%
Syracuse University, with its 20,000 students and 1,500 faculty members, helps keep the area's economy humming. Teachers, nurses and bank clerks far outnumber factory workers these days, according to the non-profit Syracuse Economic Development Corporation.
That has helped push the area's median income to a level that is slightly higher than the national average.
All of those jobs are not doing much to attract new residents, however. In fact, the metro area has seen less than a 2% increase in population since 2000, compared with nearly 10% nationally. As a result, there's very little competition for housing.
Those factors combined make buying a home in Syracuse very affordable. The current median home price of $106,000 is only 60% higher than the annual median income of a typical family.