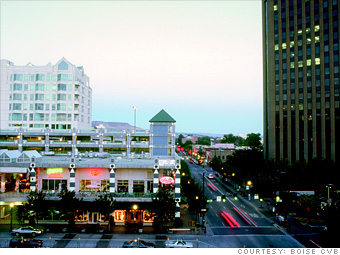 Median home price: $118,000
Drop since market peak: 36.9%
Forecast gain through 2013: 11%
Boise's housing market has gone through a dramatic rise and fall over the past decade.
Home prices almost doubled in the five years leading up to 2006. But once the bubble burst, prices plunged, according to Fiserv.
Some neighborhoods were flooded with foreclosures and the metro area had one of the higher foreclosure rates in the nation in April, according to RealtyTrac. All of those distressed properties should start to attract bargain hunters, including investors, said Steven Peterson, a professor of economics at the University of Idaho.
There are plenty of reasons for buyers to stay here. Boise has a diverse economy that includes software makers, medical services and agricultural support companies like J.R. Simplot. Chip maker Micron Technology is also based in Boise.
The unemployment is just a tick above the national rate at 8.2% and has dropped a full percentage point over the past 12 months.
"The road back to housing market recovery is less steep [in Boise] than in high-cost areas," said Peterson.