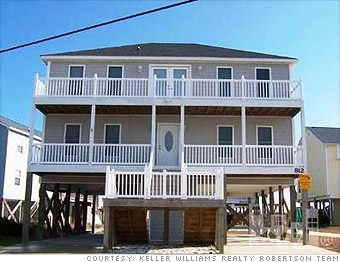 Price: $710,000
Bedrooms: 5
Baths: 3.5
Square feet: 2,562
Located on a narrow barrier island off of the southeastern coast of North Carolina, this spacious home is great for big families. Not only does it have two master bedrooms, but it also has plenty of bathrooms to accommodate everyone.
In a unique twist, the living areas are located on the top floor to take advantage of the views of the ocean and the Intracoastal Waterway, according to agent Ed Rudolph. Since the house is on stilts (to avoid flood damage) it's quite a hike to the top floor, but an elevator takes care of that problem. There's also a fireplace and a breakfast bar for everyone to gather round.
The home has its own walkway to the beach and is only a short stroll to Surf City's restaurants, stores and recreational activities.
During the high summer season, the current owners rent out the home for about $3,300 a week. They recently slashed the selling price by $65,000.
For further information:
Trulia