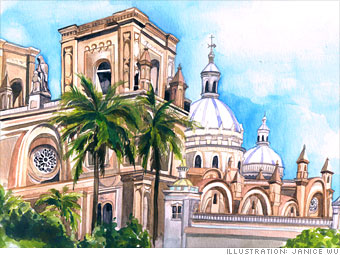 Population:
330,000
Starting home price:
$75,000*
2011 price change:
N.A.
These days overseas retirement has gotten so popular that Costa Rica is close to becoming a cliché. "This generation is more open-minded, better educated, better traveled, and healthier than any generation before it," says Kathleen Peddicord, founder of publishing group Live and Invest Overseas. Combine that with favorable foreign-exchange rates and a crisis that wiped out many nest eggs, she says, and "the idea is suddenly not so crazy anymore."
In recent years, Cuenca, Ecuador, has become a favorite of Peddicord and others as a retirement destination, and it's easy to see why. Cuenca offers temperate weather, beautiful architecture, and modern health care, all for a fraction of the cost of living in the U.S. and the national currency is the U.S. dollar. That opening-home-price figure, $75,000, is not a typo. Health care and property taxes are dirt-cheap too.
The city is currently home to a few thousand expat retirees, mostly from the U.S. and Canada. New arrivals can choose from one of the many new condo developments or spring for a landscaped historic estate for $300,000. One thing to keep in mind: Ecuador is a developing country, and creature comforts like, say, American electronics are often either unavailable or command a premium. But for today's globetrotting, adventure-seeking retirees, that's part of the thrill.
Correction: An earlier version of this story incorrectly referred to Cuenca as a "coastal" city; it is in the highlands.