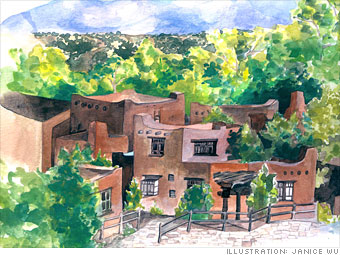 Population:
67,900*
Median home price:
$194,100
2011 price change:
-4.6%
Blue skies and mild winters don't always have to mean Florida or Arizona. Santa Fe gets 325 days of sunshine per year, there are eight major golf courses in the area, and it's a stone's throw from a major mountain range: The Sangre de Cristo Mountains offer skiing, hiking, and spectacular views. It also has culture to spare: The city is packed with galleries and features a buzzing contemporary art scene, an internationally renowned opera, and an award-winning restaurant lineup.
No wonder, then, that in recent years Santa Fe has become an increasingly popular destination for retirees (and celebrities like Gene Hackman and Tom Ford). Housing isn't cheap in the desirable center of town, where houses start at about $400,000, local realtors say. But closer to the outskirts, buyers can find classic pueblo-style homes for as little as $150,000.
Santa Fe has also held up well relative to other sun-drenched spots during the housing crisis. Employment here now outpaces the national average, and Fiserv Case-Shiller estimates that it will be one of the strongest housing markets over the next few years, with an annualized increase of 7.6% through 2016.