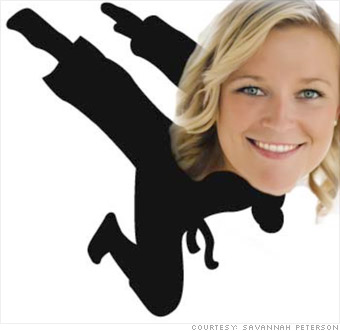 Owner: Andy Butler
Company: D2M
When Silicon Valley design and marketing agency D2M Inc. posted a job listing on Craigslist for a "marketing ninja," CEO Andy Butler was hoping for a few creative candidates.
"When we put out a posting for a 'marketing ninja,' we wanted to attract people who'd identify with that description, and we wanted to discourage people with a more traditional approach to marketing and PR," said Butler.
So when Butler opened a job application from Savannah Peterson, he knew he'd found his new marketing manager. "When I received a picture of a cropped head Photoshopped on top of a black-pajama-ed ninja, the first thing I said was, 'I have to meet this person face-to-face,' " recalled Butler.
After interviewing four of the position's 90 applicants, Butler hired Peterson based on a combination of her marketing background, design skills and ability to "jump out" from a sea of cookie-cutter candidates. But while a quirky resume replete with a ninja mock-up and a laundry list of superpowers landed Peterson the job, she said her lighthearted approach was a serious act of self-promotion in today's tough economy.
"Having been a university graduate in December of 2008 when everything fell apart, I knew it was important to stand out and have a sense of humor," she said. "I also believe that it's a lot harder to say no to a face and not just a resume."