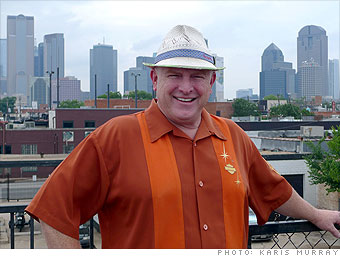 In the land of cowboy boots, Dallas stands out as a suit-and-tie town -- and a big one at that.
The Dallas-Fort Worth area encompasses more surface space than all of Vermont. It's also home to 6.4 million people.
The city also benefits from something that helped propel several Texas cities onto the top of this list. The state keeps taxes low and has instituted tort reform law that help shield companies from lawsuits.
But what really makes it stand apart is the age at which residents become entrepreneurs. Unlike in West Coast states or New England, where young MBAs reign supreme, age and experience hold weight. The vast majority of startups are launched by successful, mid-career corporate types, according to Jeremy Vickers, the Dallas Regional Chamber's director of innovation.
Jerry Joyner is one of them. He moved to Dallas at 30 and was a salesman for a printing company until he decided to start his own company at 45. He's now 52 and sells art to hospitals; he employs a dozen people at his Healthcare Art Consulting.
His corporate success and experience mattered, Joyner said. But what also helps is the city's strong tradition of making deals "on a spit and a handshake."
"There's a trust," Joyner said. "The day's time moves really fast, and if you have to go through a lot of bureaucracy, most people would never start a business."