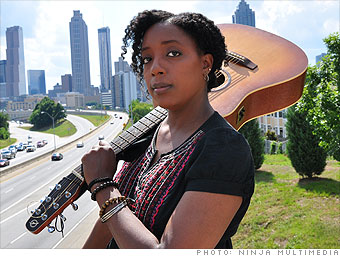 Atlanta sets itself apart because of its high concentration of Fortune 500 companies, many of which take on a supportive role.
As explained by Metro Atlanta Chamber's president, Sam Williams: The large corporations that started there recognize the value of small, young companies.
"Their respect for startups is a lot better," Williams said.
What follows, then, is a collaborative network of entrepreneurs that gain access to help from Coca-Cola, Delta Air Lines and other corporate giants.
Monica Arrington learned how welcoming the business community can be when she lost her job as an elementary school teacher. Struggling to find work, she got her break when a music teacher with too many clients sent some her way. Arrington now teaches music and rents a room at the Earthshaking Music store, where she enjoys the symbiotic business relationships she's developed.
"I can easily connect with people on a hometown-level. It's easy to meet people," she said. "I've visited other towns and cities, and people are a little standoffish. Here, it's all about being sociable."