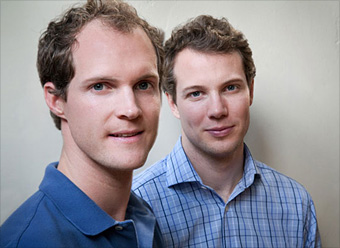 Brothers Will Haughey, 30 and Chris Haughey, age 32, both left their corporate gigs -- at Goldman Sachs and the Boston Consulting Group, respectively -- to start a socially conscious wooden toy business together.
In May 2006, Chris had been working for The Boston Consulting Group when a client project took him to Tegucigalpa, Honduras for a few days to conduct interviews at apparel factories. Chris had been to Honduras two years before to help lead a high-school mission trip at a home for street boys called The Micah Project, and the business trip gave him the chance to catch up with his missionary friends. On a Saturday morning bus ride, a conversation around the Micah Project's budget and recent expansion sparked the question, "What kind of a business could you start to make the boys' home less dependent on donations?" Chris, who grew up enjoying woodworking and studied mechanical engineering at Stanford, began to think about using the hardwoods of Honduras to start a high-end furniture business.
Chris and Will traveled together to watch the World Cup in Germany. Seeing the wooden toys in Düsseldorf led the pair to the idea that the U.S. could benefit from a wooden toy brand that produced European-quality products from a socially-minded manufacturing base in Honduras.
In late 2006, they named their business Tegu to honor Honduras's capital city and started sketching toy ideas on napkins. By April 2009, they closed on their first round of capital so they could start building the business. In the three years since, Tegu has launched a line of magnetic wooden line toys to critical acclaim. The company now has a lineup of over 30 products and their factory in Honduras employs 60 people. They've planted about 35,000 trees to date and donated 3,300 days of school to Honduran children.