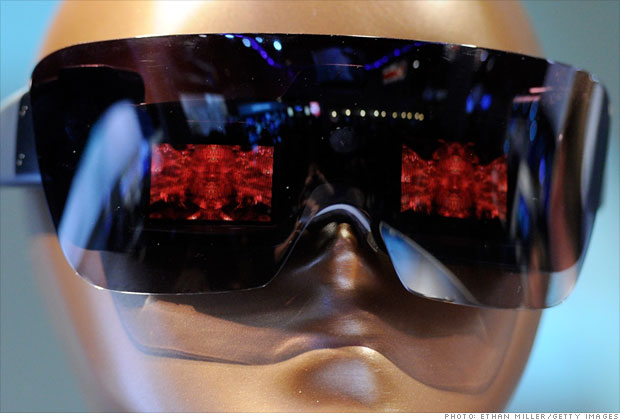 Polaroid execs created a huge spectacle at CES 2011, featuring the queen of flash: Lady Gaga, who was named the company's new creative director a year earlier.
At the show, Polaroid unveiled three products in its new "Grey Label by Haus of Gaga." The Lady herself described the trio for attendees -- and as The Next Web noted: "I've never heard point-and-shoot photography sound so confusing as I did when listening to Lady Gaga."
The first product Gaga unveiled was the strangest: a pair of face-swallowing sunglasses called GL20 Camera Glasses. They would capture photos and video like a regular camera, then display them on the glasses' LCD screens for others to see. Photos could be sent to a printer via a Bluetooth connection.
The next two products felt more like traditional Polaroid, albeit with modern touches. First up: the GL10 Instant Mobile Printer, which printed 3x4 photos wirelessly from cell phones. Rounding out the trio was the GL30, an instant camera with a retro design that harkened back to the Polaroid cameras of decades past.
The instant camera seemed most likely to be released, as it's Polaroid's bread and butter. But it never came out -- and, unsurprisingly, neither did the Camera Glasses. The GL10 printer went on sale in June 2011 for $170. It's now available for $100.