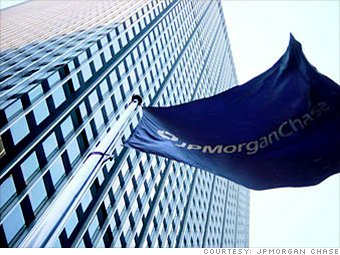 Big U.S. banks get even bigger
Looking at them now, nursing self-inflicted wounds from the financial crisis, it seems hard to believe that America's big banks could be even bigger and stronger a decade from now. But that's the scenario many industry analysts envision.
Once the euro crisis clears and America fixes its mortgage mess, giants like J.P. Morgan will enter a new era of expansion. Yes, new regulations will impose higher costs and reduce once-lucrative trading profits, resulting in far slower growth for the largest players. But those regulations will also make it tougher for others to challenge their top positions. Investment banks Goldman Sachs and Morgan Stanley won't be able to use the levels of leverage they once did to boost revenue-generating trading operations, making them prey for the megabanks.
Think of tomorrow's banks as highly regulated public utilities: They'll hold lots of capital, eke out profits, and hire managers who shun risk. Welcome to the big and boring future of banking.
--Scott Cendrowski