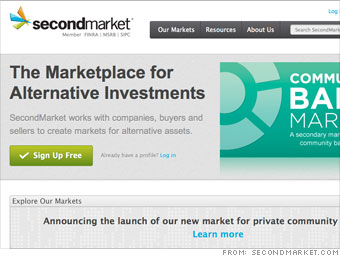 Before 2011's spate of IPOs, few tech startups had gone public in recent years. That left employees and early investors holding stock that's essentially illiquid unless they can arrange a private sale to an interested buyer. SecondMarket launched its private company stock marketplace in April 2009 to facilitate those deals.
The opportunity there has been drying up. Groupon, Zynga and Pandora and other hot properties went public in 2011, and Facebook -- SecondMarket's cash cow -- filed its paperwork in February.
The crowdfunding market could be a fresh opportunity for SecondMarket, but a company representative says it's not interested.
"We're focused on working with companies on the secondary side," says spokeswoman says Aishwarya Iyer. "But the exciting thing is that with crowdfunding, someone who raises capital can open up possibilities and then come to us."