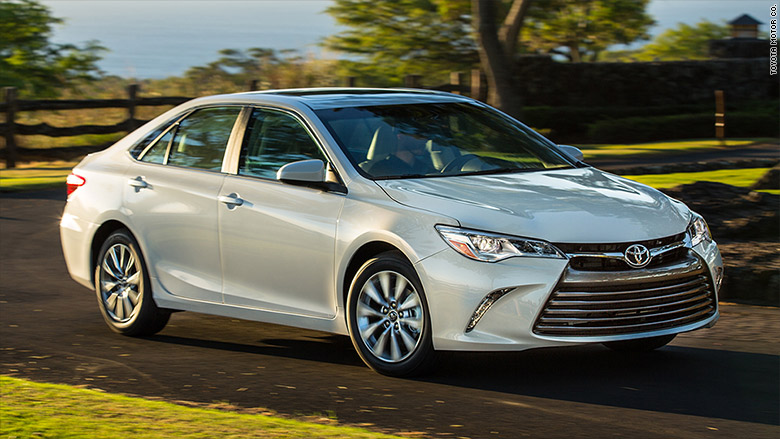 Built

: Georgetown, Ky., Lafayette, Ind.

Sales Jan - May 2015

: 178,408

Domestic parts

: 75%
The automotive Web site Cars.com has named the Toyota Camry the "Most American-made car" based on the estimated number of American jobs it supports. Not only is the Camry built here in the United States but it's assembled from 75% "domestic" parts.
Only vehicles with at least 75% "domestic" parts qualify for this list. This year, only seven models made that cut, all tied at exactly 75%. But even as American auto factories crank out more vehicles than ever, the number of cars that qualify for this list is shrinking. Five years ago, 29 models had 75% or more "domestic" parts content.
When it comes to car parts, "domestic" means a part was manufactured in either the United States or Canada, under federal reporting rules created in 1992 with support from U.S. automakers. At that time, U.S. automakers had significant auto manufacturing in Canada (Detroit, in case you haven't noticed, is just across a river from Canada.)
Since the North American Free Trade Agreement went into effect, a lot of auto parts manufacturing has shifted to Mexico. That's the reason why "domestic" production is falling, said Frank DuBois, an associate professor of business at American University.
The last factor Cars.com looks at for this list is sales. The theory here is that a car that sells more, supports more American jobs. Those jobs aren't just at the the factory but also at suppliers, at auto dealers, at service stations and beyond.
That sales factor gives the Toyota (TM) Camry a huge advantage. The Camry has been the best-selling passenger car in America for each of the past 13 years.
First published July 2, 2015: 12:27 PM ET
Partner Offers
Paid Partner