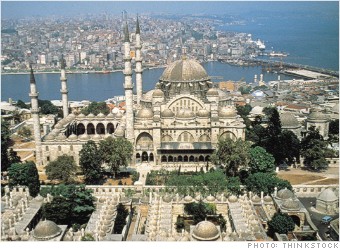 Turkey and Greece may share borders, but their economies couldn't be further apart. While most counties in Europe have been roiled by the region's ongoing debt crisis, Turkey has remained a relative bright spot.
Although Turkey's economic growth has slowed, it has avoided recession like some of its neighbors, thanks to strong exports. And GDP growth is forecast to pick up over the next couple of years. Plus, unemployment is at an 11-year low.
Earlier this month, Fitch Ratings lifted Turkey's credit rating to investment grade for the first time in two decades, which sent the Istanbul stock exchange to record highs.
Moody's, however, maintained its junk rating on Turkey in its most recent assessment, noting that while Turkey's financial strength has improved, it still faces short-term financing risks, and the government's efforts to address Turkey's economic imbalances will take time to take effect.